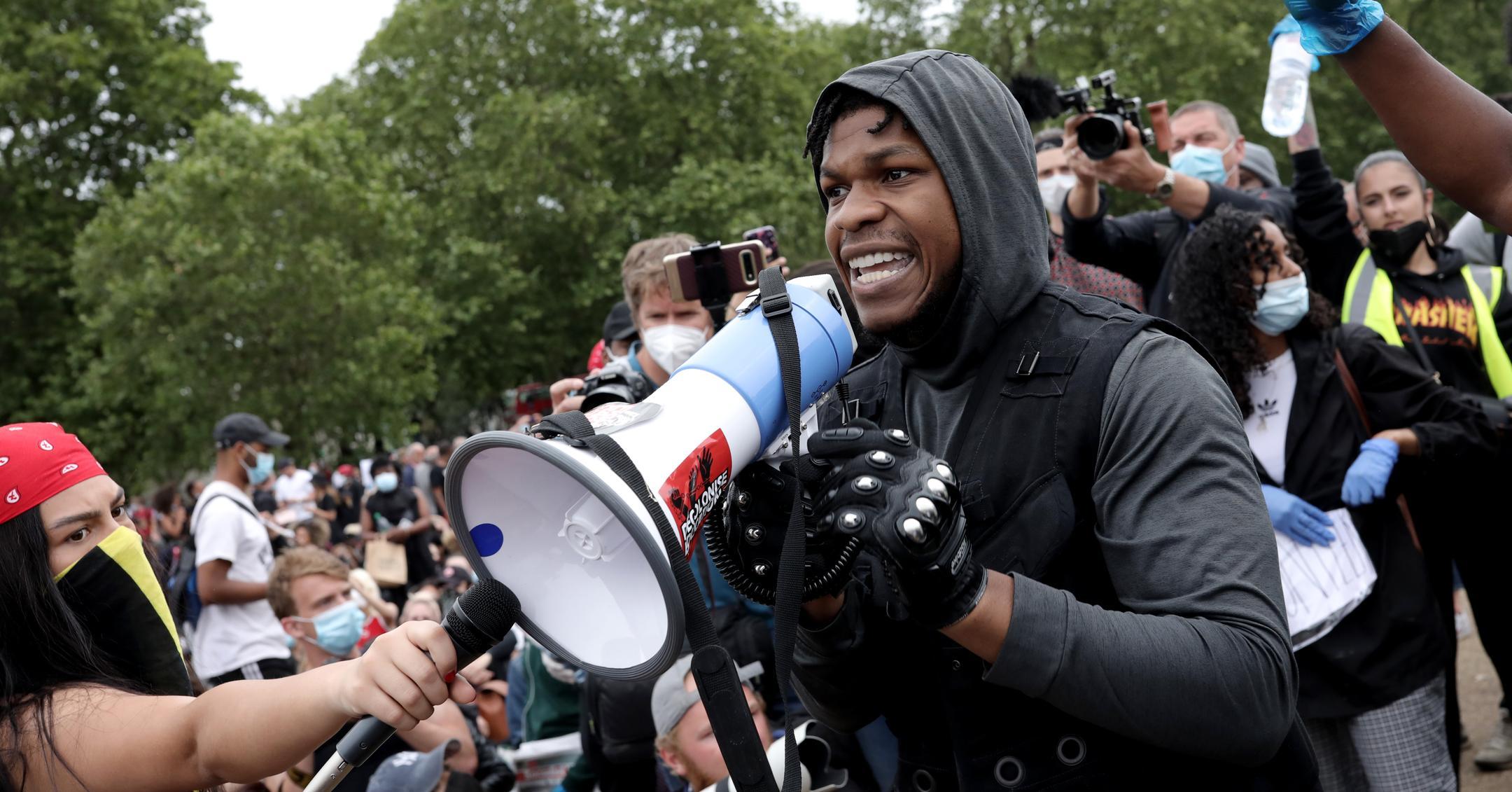 Directors support 'Star Wars' star John Boyega who said he 'might not have a career' after protesting
By Robin Zlotnick

Jun. 5 2020, Updated 7:34 a.m. ET
John Boyega, the actor who rose to prominence for his role as Finn in the new Star Wars trilogy, stood up and protested against police brutality and for the Black Lives Matter movement in London this week despite concerns that speaking out could harm his career.
Article continues below advertisement
"Look I don't know if I'm going to have a career after this, but f--k that," he said through a megaphone, impassioned and emotional. This comment prompted directors everywhere to share their support for John and their willingness and eagerness to work with him. It was a moving moment of solidarity and a reminder that no one should be punished for speaking out against injustice.
Article continues below advertisement
"We got you, John," tweeted Jordan Peele. Matthew A. Cherry, Oscar-winning director of Hair Love, wrote, "I would work with John Boyega and I urge other non-Black creators to affirm that they have his back as well."
This tweet went viral and sparked a wave of creators showing up to show their support for John Boyega. It was a no-brainer for a lot of folks; John Boyega is an extremely talented actor.
Article continues below advertisement
Directors like Olivia Wilde, Elizabeth Banks, and Paul Feig all expressed their desire to work with him. "My hand is up high. It would be an honor to work with John," Feig wrote.
Article continues below advertisement
Edgar Wright, who worked with John on Attack the Block, wrote, "Have before and would again, in a heartbeat. So proud of John today."
The support was widespread and palpable. Directors of all types of films stepped up to say that John Boyega didn't have to afraid of losing work because he chose to stand up for Black lives.
Moon and Source Code director Duncan Jones wrote, "Crazy that it even needs to be said, but of course! I mean... he's from Peckham and I'm from Bromley, but even so, I've STILL got his back!"
Article continues below advertisement
"Love this man," wrote Rian Johnson, who directed John Boyega in The Last Jedi. There are plenty of celebrities speaking out right now and / or donating to Black Lives Matter and anti-police brutality causes.
But not all of them are part of one of the largest movie franchises, a movie franchise that is now owned by Disney, and not all of them are Black. John Boyega has had to deal with a lot of hate and racism just from "fans" of the movies he stars in, let alone what I'm sure he's dealt with throughout the rest of his life.
Article continues below advertisement
This show of solidarity is not just significant for John Boyega but for all actors and employees of large businesses that don't do everything they should to support their Black employees. White people can generally feel safer in their jobs if they choose to speak out and protest.
So while it is extremely important for directors and creators of all kinds to say that they will absolutely work with John Boyega, it's just a first step for all non-Black people in positions of power, who have to do better when it comes to hiring diversely and supporting those employees. John Boyega should have never had to even feel like he'd have to choose between his career and standing up or what's right.