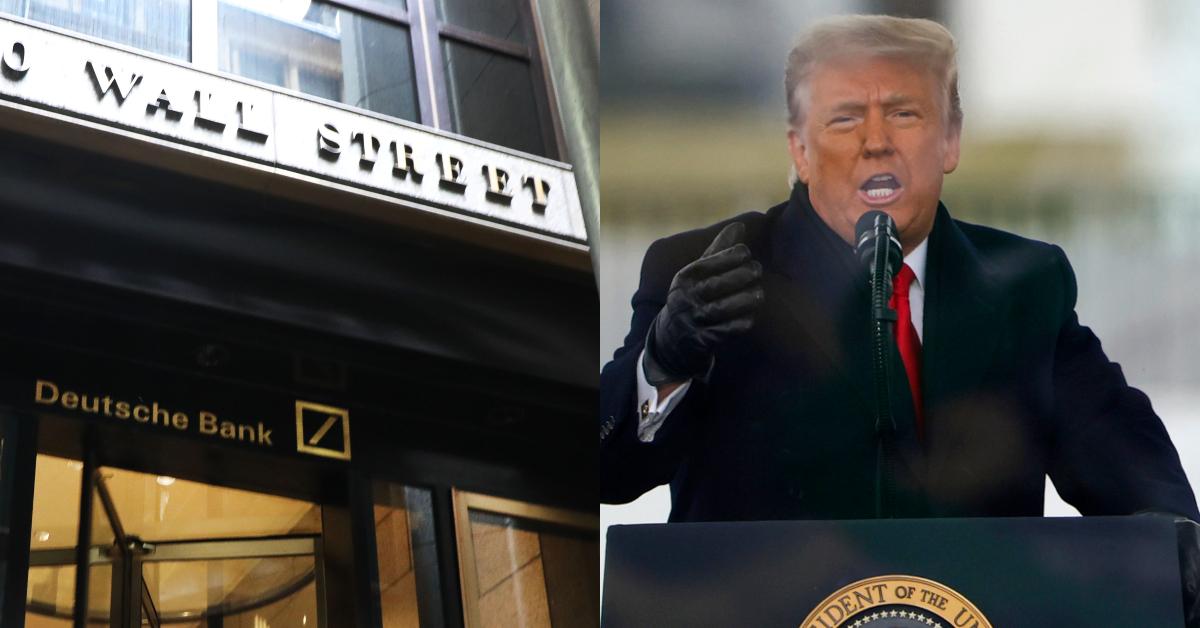 Deutsche Bank, one of Trump's oldest business partners, cuts ties with him
By Mustafa Gatollari

Jan. 12 2021, Updated 10:36 a.m. ET
The last weeks of Donald Trump's presidency have been filled with drama. From his reluctance to accepting the results of the 2020 election, to insisting his legal team push to try and overturn the state electors, to his refusal to concede defeat and insist voter fraud occurred, there's been a lot of media coverage surrounding the President's behavior. Behavior that many are attributing to the events that led to the Capitol Building riots, which has prompted companies, including Deutsche Bank, to distance themselves from Trump.
Article continues below advertisement
While many found it surprising that social media networks like Facebook and Twitter banned Trump, especially since their shares suffered a bit after doing so, and the former reality TV show host successfully manipulated the platforms and utilize ad buys to win the 2016 Presidential election, it's a lot more believable to that those corporations would cut ties with Trump than Deutsche Bank, given their relatively shorter business relationship.
The financial institution is one of Trump's longest-running business partners, but it appears that the recent riots at the Capitol and the Trump Organization's $300 million debt to Deutsche Bank may have something to do with their decision to part ways.
After a string of bankruptcies, Deutsche Bank was the only lending company that would do business with Trump. In 2008, he sued them for $3 billion in compensation, stating that they were partly responsible for the US' economic collapse.
Article continues below advertisement
Reuters has reported the banking institution's been looking for a way to end its relationship with Trump since November, and the riots may just have been the out that DB's been looking for. Christiana Riley, DB Americas executive wrote on LinkedIn: "Yesterday was a dark day for America and our democracy. We are proud of our Constitution and stand by those who seek to uphold it."
Article continues below advertisement
Deutsche Bank's decision to no longer do business with Trump follows the news of Signature Bank's announcement that they would cut all ties with the man and his family. Holding around $5.3 million of Trump organization funds, Signature wrote, "We believe the appropriate action would be the resignation of the president of the United States, which is in the best interests of our nation and the American people."
Article continues below advertisement
Then, there's the US Professional Golfers' Association which has stated they will not hold the PGA Championship at Trump's New Jersey golf course, and the British Open golf tournament-runners, the R&A, which has eliminated Trump's Turnberry golf course in Scotland for from consideration.
Donald Trump's ex-communication from the virtual world as well began shortly following the results of the 2020 election.
Tons of social media platforms have effectively "killed" stories that mention any possible connection with voter fraud: accounts that posted about dominion voting systems, "double ballots" or had any intimation that voter fraud was a possibility was flagged as containing misleading or false information. Multiple court hearings and appeals resulted in more or less the same verdict: there was no evidence of significant voter fraud.
Article continues below advertisement
Still, Donald Trump wouldn't concede, and many are pointing to a speech President Trump delivered at a rally right before the riots, the "Save America March", as to the ultimate impetus for people who decided to storm the building on the date of electoral certification.
His message is now being used as grounds for his impeachment, an effort headed by Speaker of the House Nancy Pelosi.
Article continues below advertisement
"We're going to walk down to the Capitol, and we're going to cheer on our brave senators and congressmen and women, and we're probably not going to be cheering so much for some of them, because you'll never take back our country with weakness. You have to show strength, and you have to be strong," Trump said.
Article continues below advertisement
He continued, "We will never give up. We will never concede. It doesn't happen. You don't concede when there's theft involved. Our country has had enough. We will not take it anymore, and that is what this is all about. And to use a favorite term that all of you people really came up with, we will stop the steal. You will have an illegitimate president. That is what you will have, and we can't let that happen. These are the facts that you won't hear from the fake news media. It's all part of the suppression effort. They don't want to talk about it. They don't want to talk about it."
He concluded by saying, "We fight like hell, and if you don't fight like hell, you're not going to have a country anymore."