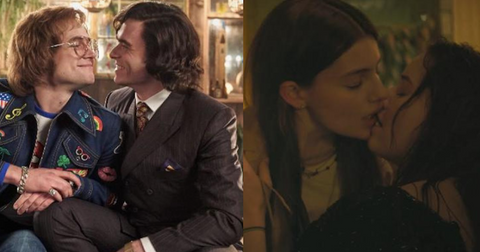 Delta will restore same-sex love scenes in airplane cuts of 'Booksmart' and 'Rocketman'
By Robin Zlotnick

Updated
Delta Airlines faced public backlash after plane passengers realized the edited airline versions of movies like Booksmart and Rocketman deleted same-sex love scenes that were included in the original cuts of the films. On November 1, Delta announced that it would restore those scenes and make sure their entertainment content processes are more thoroughly scrutinized.
It all started when several passengers tried to watch the movies on their flights and tweeted out that those scenes had been excluded from the in-flight versions of the movies. In Booksmart, actor Kaitlyn Dever makes out with a woman in a bathroom in a clumsy scene. And one passenger tweeted that on Delta, "Rocketman is stripped of almost every gay reference or scene that @eltonofficial fought to keep in the film's mainstream release, including a simple chaste kiss."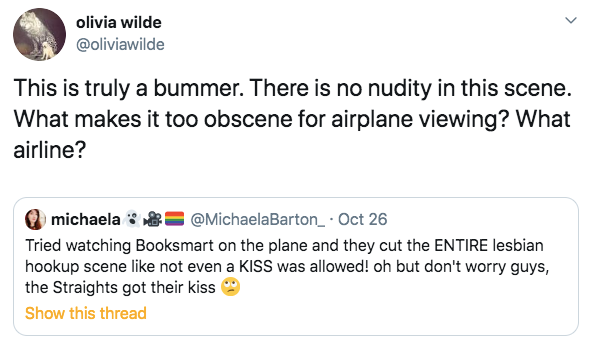 Booksmart's director Olivia Wilde tweeted out her disappointment that the scene in which two women kiss was cut from the film. "There is no nudity in this scene. What makes it too obscene for airplane viewing?" she asks. In a follow-up Twitter thread, Wilde explains, "I finally had the chance to watch an edited version of Booksmart on a flight to see exactly what had been censored. Turns out some airlines work with a third-party company that edits the movie based on what they deem inappropriate. Which, in our case, is ... female sexuality?"
She writes that you have to jump through hoops to watch this movie on a plane, agreeing to a "'parental advisory' that warns you that viewer discretion is advised." Once you click through that, she writes, "it seems like you've agreed to watch the movie in its original form." However, they muted or cut the words 'vagina' and 'genitals,' removed references to scissoring, masturbating, and UTIs, cut a moment involving porn, and cut shots of naked doll bodies. 

Interestingly, she notes that none of the curse words were censored. "What message is this sending to viewers and especially to women?" she continues. "That their bodies are obscene? That their sexuality is shameful? I urge every airline, especially those who pride themselves on inclusivity, to stop working with this third party company, and trust the parental advisory warning to allow viewers to opt out if they choose."
Although Delta is not the only airline to work with this third-party service, it is the only airline to have expressly responded to this controversy and provide a statement outlining exactly what it intends to do about this. In a statement to The Hollywood Reporter, Delta spokesperson Emma Protis said, "We are immediately putting a new process in place for managing content available through Delta's in-flight entertainment. Studios often provide videos in two forms: a theatrical, original version and an edited version. We selected the edited version and now realize content well within our guidelines was unnecessarily excluded from both films. We are working to make sure this doesn't happen again."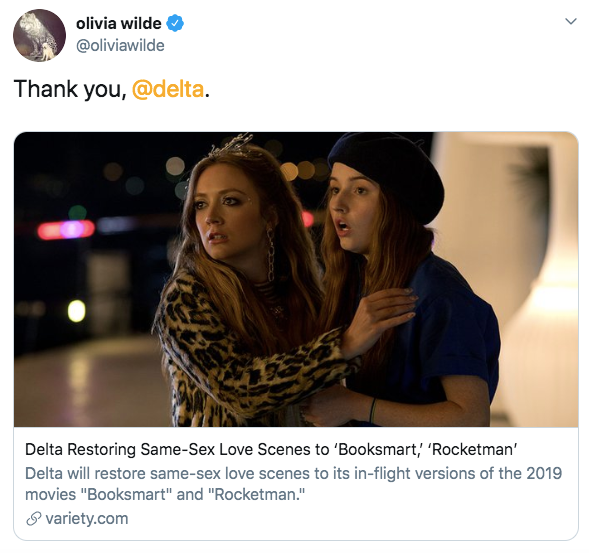 The Hollywood Reporter reports that "Annapurna and Paramount are providing the airline a 'special Delta edit' that will include same-sex love scenes in the studios' respective films Booksmart and Rocketman. The airline adds that it has titles including same-sex romances Gentleman Jack, Imagine Me and You, and Moonlight on their flights. A third-party company edits Delta movies, not the airline itself."
Other airlines that have censored versions of these movies in their systems include Etihad and Emirates Airlines, which are both from the Middle East. And they may not be the only ones. In an article for The Points Guy, Anthony Grant explains exactly how airlines go about censoring content for their in-flight entertainment systems. 
He explains that there are whole companies that work to shape and provide entertainment content to airlines that meet certain standards. "In-flight entertainment content providers serve not only as middlemen (and women) between the studios and airlines, but also are charged by the latter to provide what they consider to be the most appropriate and desirable content for their customers," he writes.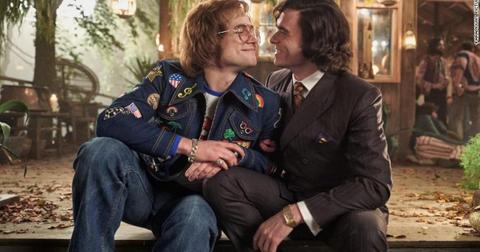 Jovitah Toh, CEO of Encore Inflight Limited, said that the airlines provide these companies with their censorship guidelines and then work with them on the edits. They offer the airlines the choice of a theatrical/broadcast version or a version edited specifically for the in-flight experience. Mike Miller, VP of corporate communications as Global Eagle, said, "We dub and edit movies for global audiences, including children on board, and at the same time we are required to obey local laws and local religious sensitivities. That includes for sensitivities across Europe, the Americas, Asia, Middle East, and Africa. Each airline has its own requests and we respect our customers' wishes."
As Grant explains, it becomes an ethical issue when these editorial decisions designed to "respect cultural differences drift into something darker." There may be certain cultural considerations that should be taken into account, but then again, all passengers have the choice to view this content or not. Airlines need to be cautious not to carelessly censor scenes from films that should never be considered "inappropriate" in the first place.