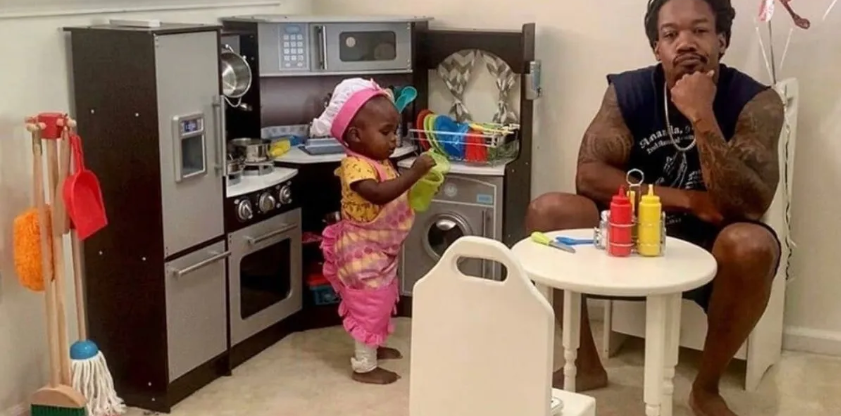 Dad shares his 'complaints' about a tiny Black-Owned Business owner, and it's too adorable
By Annie Reneau

Jun. 6 2020, Updated 11:24 a.m. ET
Being the parent of a toddler is a unique joy that only lasts for a fleeting season, which is why you have to take full advantage of it while you can. And one dad is clearly doing just that.
Article continues below advertisement
Christopher Kyle is father to adorable, 18-month-old Ava, who treated her dad to a meal at her sit-down restaurant. Only according to Kyle, the service left much to be desired.
In a post on Instagram, Kyle shared a photo of Ava in her play kitchen while he sat waiting for his food in a tiny chair at a tiny table. He wrote:
"So I tried to support another Black Owned Business for lunch today. It's called Ava's Kitchen, just opened end of April. It's a very clean establishment, but whewww let me tell you about this owner.
First off, I asked why there are balloons on my chair, and it's not my birthday? She talm'bout, mind yah business; those are Mommy's.
Article continues below advertisement
I been waiting on my order to get done for 45 minutes, and I'm the only customer here. She was making good progress at first, then she stopped for 20 minutes to go watch Paw Patrol.
Overall the customer service could be better, but the cook is a cutie; so I'll give her another chance. Let's not give up on Black businesses so fast after one mistake."
Article continues below advertisement
People absolutely loved this dad's humor and clearly stellar parenting skills. Anyone who has sat through a tea party—or any activity with the wee ones—knows that for all of its cuteness, toddler play is an exercise in patience and endurance.
Upworthy shared Kyle's story well on on our Instagram page and our readers did not disappoint.
Some played right along with the game:
"Starting a restaurant is tough.. give her a chance "
"I mean, she started a restaurant during a global pandemic, give her a break "
"Is she taking reservations?"
Fans of Paw Patrol had some words:
Article continues below advertisement
"Paw Patrol is a must watch so "
"I died at Paw Patrol that's my show though. I don't have kids I just watch it just because lmao."
"Paw Patrol break is mandatory. Too cute! "
Others just gushed over the entire scene:
"Love EVERYTHING about this!! The adorable owner, the custumer's humor and the incredible love"
"That's the cutest restaurant owner I've ever seen. The dad's face is priceless!"
"LoL the story is funny & beautiful!!! This warms my heart!! This babygirl will grow up to have such a healthy look at men (in any capacity) as long as she & her Daddy keep such a beautiful bond!! Happy Father's Day (early) Keep encouraging her to do her thing and her confidence will continue to soar!! I just love this!!"
Well done, dad. And well done, Ava. Can't wait to see you open your own real business someday, baby girl.