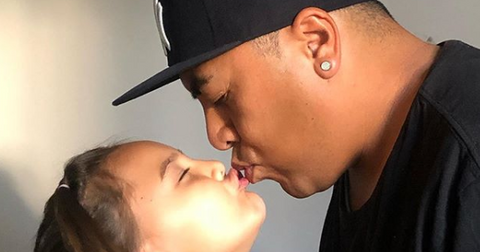 Dad calls out people who criticize fathers for kissing their daughters on the lips
By Mark Pygas

Updated
Somehow, fathers kissing their daughters is considered controversial. David Beckham sparked a debate back in 2017 when he posted a photo of himself kissing his daughter on the lips during a trip to Tanzania. 
"To be honest kissing your daughter on the lips is a little weird," was just one of many negative comments that the post attracted.  
Now, one dad from New Zealand is calling on people to stop sexualizing parents kissing their children. Tyrone Matoka, who now lives in Sydney, Australia, took to social media to share a photo of him kissing his daughter on the lips.
"There is no greater love than that of a parent for their child," Matoka wrote in a caption alongside the image. 
He then went on to call out those who are critical of dads kissing their daughters. The post continues:
"If this photo of me kissing my 5yr old daughter on the lips offends you, please unfriend me."
"If any sort of loving affection shown between a parent and their child offends you, please unfriend me." 
"In fact, if seeing a Mother in public breastfeeding her Baby also offends you, please unfriend me."
"But just before you unfriend me, please take this with you and hide it inside your behind," Matoka wrote alongside the middle finger emoji.
The post concludes: "STOP sexualizing fathers showing love & affection to their kids!!!!!"
Matoka told the Daily Mail that he decided to post the image after seeing criticism of Beckham's show of affection towards his daughter. As a victim of domestic violence at the hands of his father, Matoka says it's important to show his children just how much he loves them. 
"I myself had a very rough childhood," Matoka said. "My father spent most of it incarcerated so I never had a male father figure."
"I want to be that role model to my children. There were a lot of negative things in my past but once I had my kids I channeled my experiences into giving them the childhood I never had."
Matoka hopes that the post will help to combat the taboo around parents kissing their children on the lips,
"The big thing for me is if you want to show affection for your kids and they are OK with that they will go through life knowing the difference between being loved and not being loved," he added.  
The post has attracted plenty of positive feedback, with one user writing: "Mate my daughter is 9 and we always kiss on the lips and we did the same for our son who is now 20 and he turned out fine. People need to get their minds out of the gutter."
While another added: "We DESPERATELY need MORE men like you in the world. Love your message, you are making a huge difference in the world."
Another user concluded: "I truly love people like you. Lovely photo of a father and daughter kissing! We need more of that in the world."