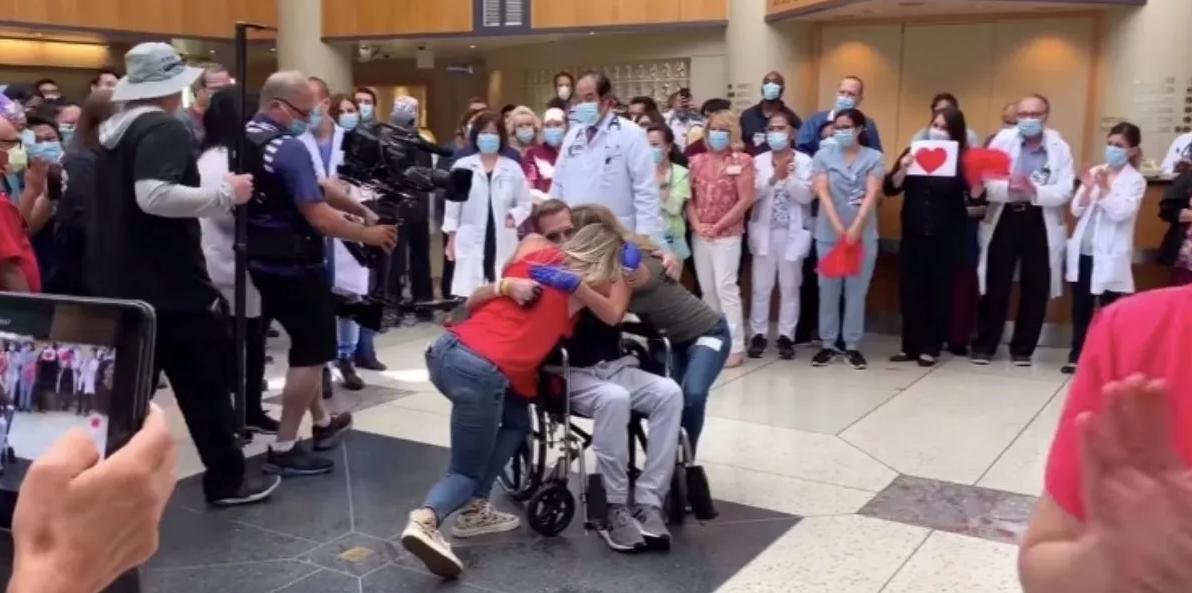 COVID-19 patient with 1% chance to live goes home after 64-days in the hospital, 31 days on a ventilator
By Annie Reneau

May 21 2020, Updated 11:17 a.m. ET
When 54-year-old Gregg Garfield traveled to Italy on a ski trip with friends in February, he had no idea he would become a Providence Saint Joseph Hospital's first coronavirus patient, nor that he would fight for his life there for more than two months straight.
Article continues below advertisement
He and the dozen friends with him on the trip ended up testing positive for the virus. Four of them had to be hospitalized, three were put on ventilators, but Garfield's case took an extreme turn. Despite his athleticism and good health, he ended up on a ventilator for 31 days. At one point, was only given a 1% chance of survival.
"He wasn't that bad when he came into the emergency room,"pulmonologist Dr. Daniel Dea told KABC-TV, "and within less than 48 hours, he wasn't breathing well. He was on maximum oxygen."
Article continues below advertisement
It's a good reminder that COVID-19 is unpredictable, and that for some people, a robust immune system ends up hurting more than helping. "The disease kicked off, and my immune system just ate me alive," Garfield told KCAL-TV.
Garfield's sister Stephanie offered some details of his terrifying journey on a GoFundMe page for him:
"On March 5, 2020 Gregg checked himself into St. Joseph's Providence Hospital Burbank with serious Covid-19 symptoms. He was the hospital's first Covid-19 patient, or "Patient Zero" as they call him. Two days later, under heavy sedation and paralytic drugs, the doctors intubated him- around day 10 doing a tracheostomy- and he continued to be on a ventilator for 31 days."
Article continues below advertisement
"During that time his body became septic; his kidneys failed and he was put on CRRT dialysis; his blood pressure plummeted and he needed medications to divert his blood-flow to his major organs for survival, leaving his hands and feet starving for circulation; he spiked fevers and was covered in ice; his lungs collapsed 4 times and chest tubes were inserted; and he developed secondary infections that are common in hospital environments. He had a 1% chance of surviving."
"The doctors and nursing staff had to always remain 3 steps ahead of any potential disasters because to enter his room took about 15 minutes for them to gear up in their hazmat attire. Gregg knocked on death's door, but said "F#$% NO! I'm not coming in!!!"
Article continues below advertisement
On Friday, Garfield finally got to leave the hospital and go home—to a rousing and heartwarming send-off from hospital staff:
Article continues below advertisement
"This is really emotional for me," Garfield told KCAL-TV. "I have a hard time receiving. I have received an outpour of unbelievable love. The only thing I really am focused on right now is telling the story about how real this is."
Garfield still has a long road ahead of him as his body learns to walk and breathe normally again. An update on the GoFundMe page describes the impact of being bedridden and ventilated for as long as he was: "The sustained lack of circulation to his extremities caused his fingers and toes to turn black, similar to a frostbite injury."
Article continues below advertisement
"This caused permanent damage and unfortunately once he is released from acute rehab, he will be looking at additional surgeries for amputation, prostheses and of course more physical/occupational therapy as he learns to navigate this new world."
However, Garfield is confident he will recover completely—which is the best gift he could give to the dedicated hospital staff who never gave up on him.