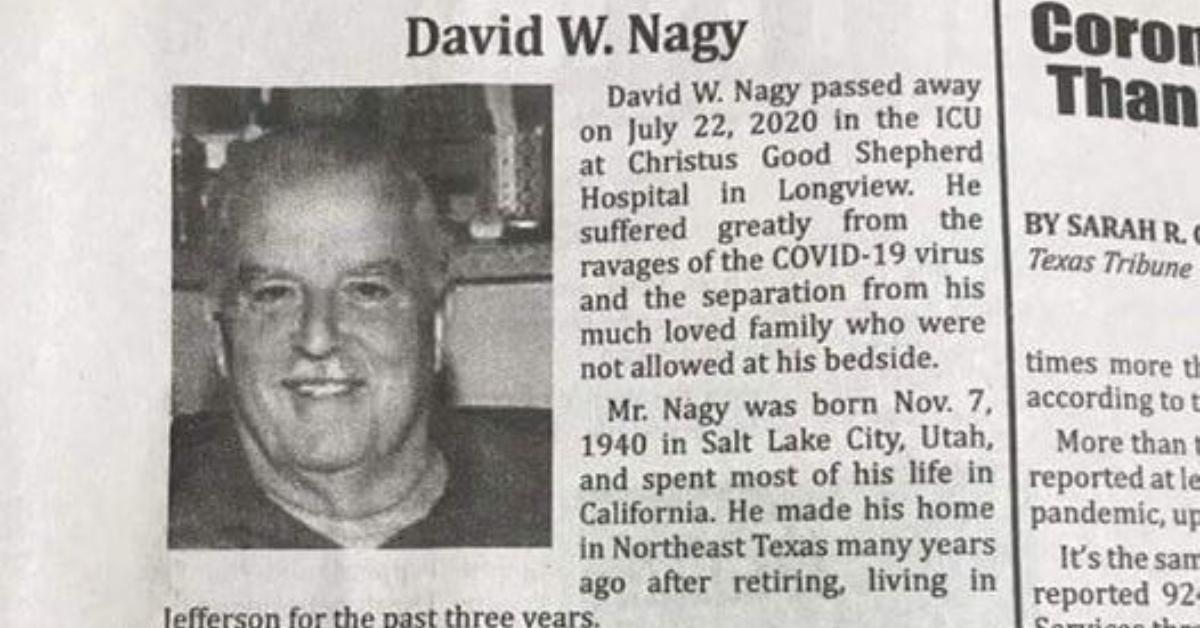 Obituary for man who died from COVID-19 blames Trump for his death
By Robin Zlotnick

Aug. 6 2020, Updated 9:11 a.m. ET
Stacey Nagy's righteous anger at the preventable death of her husband is tangible in the obituary she wrote for him. In David W. Nagy's obituary, his wife Stacey writes that the blame for his death lies with President Trump, Texas Governor Greg Abbott, other politicians, and individuals who refuse to wear masks and maintain safe social distance.
Article continues below advertisement
Stacey told BuzzFeed News that David had some medical conditions that made him high-risk when it came to COVID-19. But in his obituary, she writes that he did everything he was supposed to do, and that it was the failure of the government that lead to his untimely death.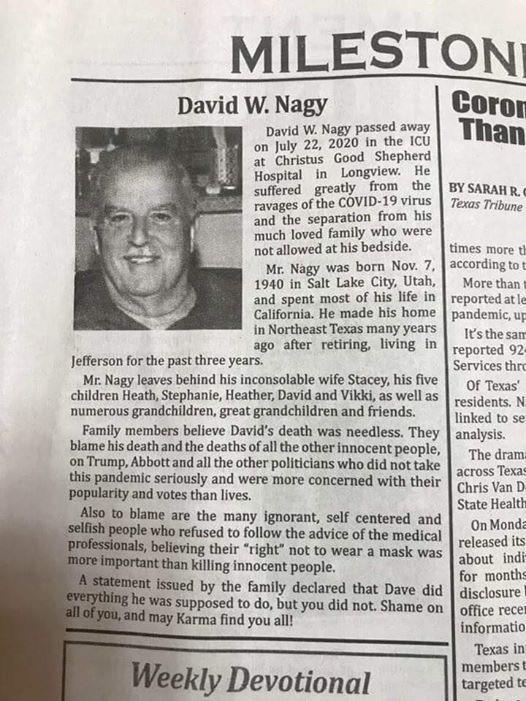 Article continues below advertisement
The obituary, which was published in the Jefferson Jimplecute newspaper on July 30, has been reposted on Reddit and Twitter, and shared by millions for its powerful language and unbridled emotion.
"David W. Nagy passed away on July 22, 2020 in the ICU at Christus Good Shepherd Hospital in Longview," it reads. "He suffered greatly from the ravages of the COVID-19 virus and the separation from his much loved family who were not allowed at his bedside."
Article continues below advertisement
It continues, "Family members believe David's death was needless. They blame his death and the deaths of all the other innocent people on Trump, Abbott, and all the other politicians who did not take this pandemic seriously and were more concerned with their popularity and votes than lives.
"Also to blame are the many ignorant, self-centered, and selfish people who refused to follow the advice of the medical professionals, believing their 'right' not to wear a mask was more important than killing innocent people. A statement issued by the family declared that Dave did everything he was supposed to do, but you did not. Shame on all of you, and may Karma find you all!"
Article continues below advertisement
Stacey said, "We were married for 20 years and not I'm not with him. It's just been devastating for me. It pisses me off because he didn't need to die. Had people been following the recommendations, things would have been different. But people don't."
Article continues below advertisement
Stacey believes that Trump and Abbott are to blame because they wouldn't listen to medical experts and didn't make the recommendation to wear masks until it was too late. Thus, mask-wearing became politicized, and now there's a whole movement of people who refuse because they believe it somehow infringes upon their rights.
Article continues below advertisement
Many understand Stacey's anger and are thankful she didn't mince words while honoring her late husband. "If I die from COVID-19," one Twitter user wrote, "I've instructed my family to make my obituary exactly the same."
Article continues below advertisement
David had been sent to a nursing home to recover after a fall in late March. The risk of COVID-19 made it safer for him to stay there as cases ramped up in the state. But soon the nursing home locked down, and Stacey could only visit her husband through the window.
Then, in early July, he contracted the virus and was taken to a hospital, where his condition only worsened despite doctors' best efforts. She could only talk to him through the glass door outside his room. He died on July 22, and his family couldn't even be there next to him.
"I was super pissed because it didn't have to happen and every time I think about it I get angry and cry," Stacey said. "People running around not wearing masks when they should, people making masks a political thing when it isn't. It's life and death. It's not political. It's about people."