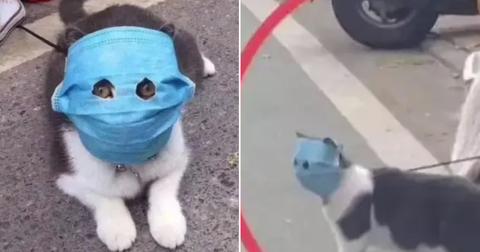 Chinese pet owners are creating makeshift coronavirus masks for their cats and dogs
By Mark Pygas

Updated
Coronavirus cases are continuing to soar in China, with confirmed cases reaching 42,000 and over 1,000 deaths. In the face of the outbreak, there have been global shortages of protective masks and other medical gear as people seek to protect themselves, and in some cases, their pets.
Article continues below advertisement
Photos have been circulating on Chinese social media site Weibo that appear to show cats and dogs in makeshift protective gear.
According to the Daily Mail, pictures posted to Weibo show animals in China in an array of protective gear, even though the World Health Organization (WHO) doesn't believe that the coronavirus can be passed from humans to animals.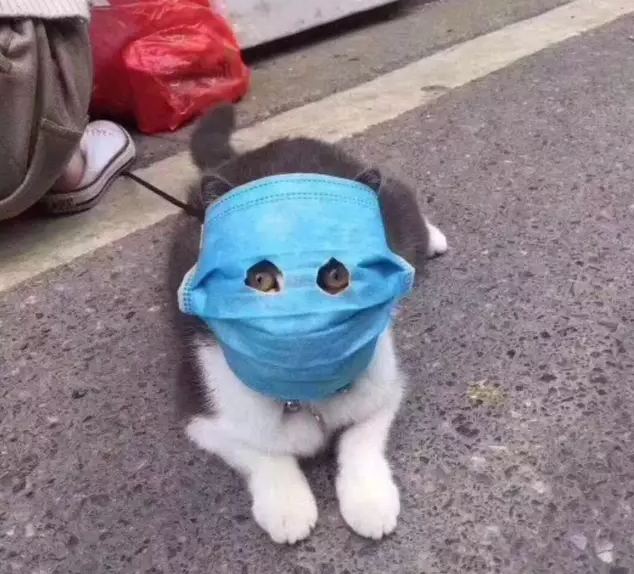 Article continues below advertisement
Pictures shared by Chinese entertainment blogger Li Shen Le showed a cat that she spotted on the street. The cat was wearing a human-sized protective mask with eye holes cut out. These images inspired many other Weibo users to share the protective costumes they've made for their animals.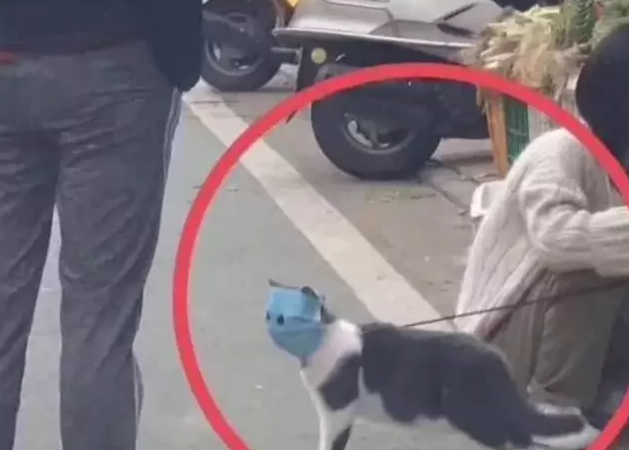 Article continues below advertisement
Some users have gone as far as wrapping the heads of their dogs in socks. While another user spotted a woman walking her dog in full protective gear, and her dog had a similar suit to match her.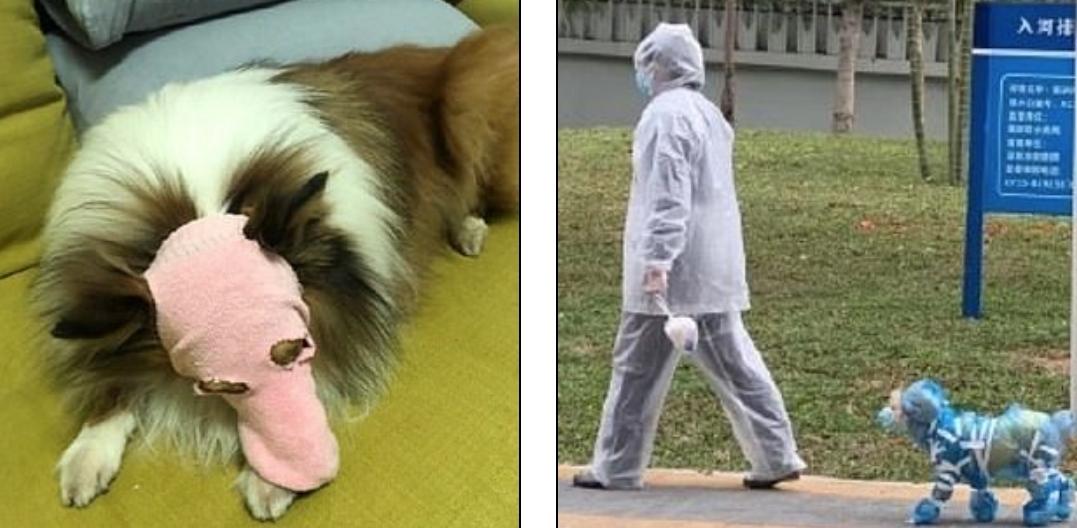 Article continues below advertisement
Another Chinese pet owner shared a temporary mask her mother had made for their dog using a paper cup and string. While one pet owner wrapped their husky up in a medical gown, surgical mask, and shower cap.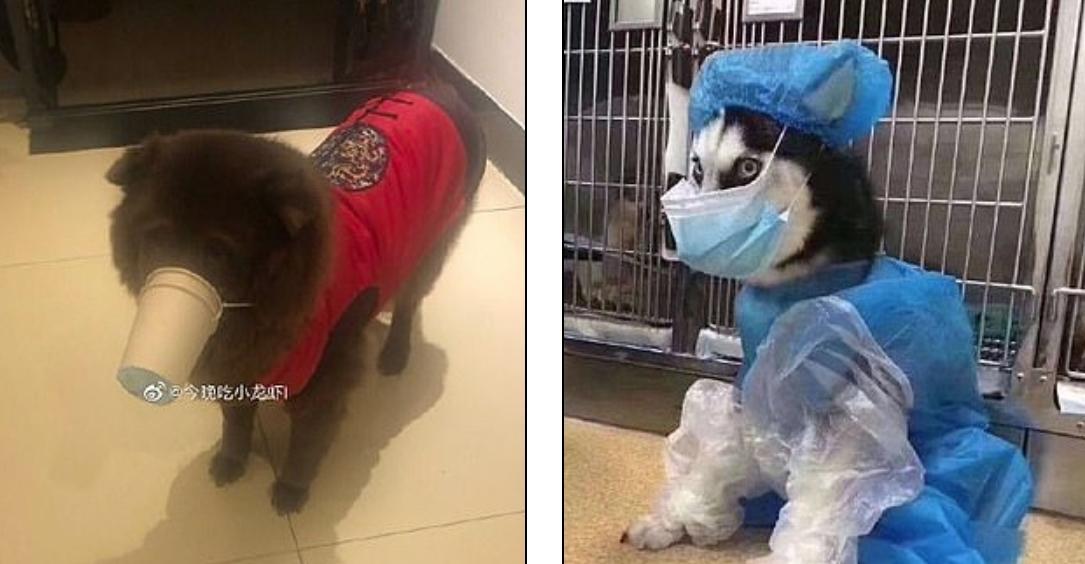 Article continues below advertisement
This cat is looking very trendy in her surgical mask.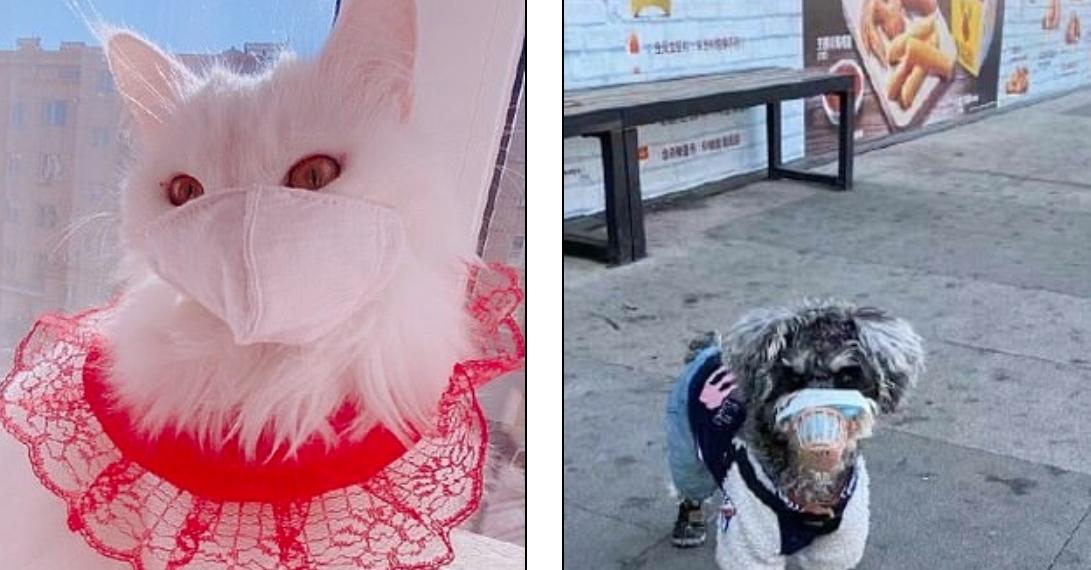 Article continues below advertisement
As well as makeshift solutions, people are flocking to online stores to buy professionally-made protective gear for their animals. One Beijing-based online seller, Zhou Tianxiao, told the Daily Mail that he was selling ten times the number of dog masks than usual.
"Most [dogs] have started to wear [masks]. Because there is this virus, people pay more attention to their health and their pets' health,' Zhou Tianxiao said. He sells surgical masks for dogs at the price of around $6 for a pack of three.
Article continues below advertisement
Despite the WHO's advice that animals can't catch the virus, fears were sparked in China when Prof. Li Lanjuan, a member of the senior expert team from China's National Health Commission, suggested that animals might have to quarantine if they came into contact with a human patient.
In an interview with the state-run CCTV, she warned that pet owners should be cautious because coronavirus "spreads between mammals."
Just how efficient surgical masks are for preventing the spread of coronavirus has also been brought into question.
Dr Nathalie MacDermott, a clinical lecturer at King's College London, told Sky News that there is "not any good evidence" that such masks will protect people.
Article continues below advertisement
"Surgical masks are not designed with a very decent filter on them so they're not able to really filter out finer particles such as viruses," she said. "They also don't always fit ideally around the face to provide enough protection for someone."
"We breathe out humidified air which essentially moistens the mask over time and once that mask becomes moist, it's really no longer very effective."
MacDermott explained that the masks medical staff wear are usually more advanced respirators which can "filter much finer particles including viruses."
She added that "any mask really is only as good as the person wearing it".
"If you were to wear a mask and then take it off and not wash your hands and then touch your eyes or eat some food, you've just risked contaminating yourself as well. If you wear a mask you have to make sure you wash your hands afterward."
MacDermott also warned that a virus can enter your body through your eyes just as easily as it can enter through your mouth or nose.