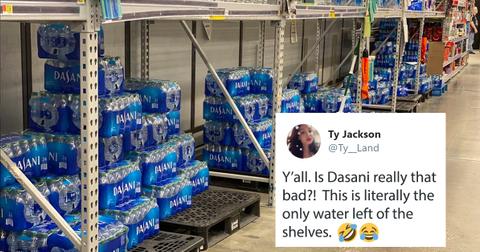 People are panic-buying water due to coronavirus but they're still not touching Dasani
By Mark Pygas
There were plenty of scary coronavirus headlines over the weekend, whether it was the Centers for Disease Control and Prevention advice to shut down events of more than 50 people, or global deaths surpassing 6,500.
And despite government pleas to avoid panic-buying, that seems to be all that people are doing. All you have to do is visit social media to see images of empty shelves and people frantically throwing hundreds of rolls of toilet paper into their shopping baskets.
"I've never seen anything like this," one user wrote while sharing photos of empty shelves at a Trader Joe's in Manhattan.
But for whatever reason, people don't seem to be buying Dasani water.
"Is Dasani really that bad," one user asked. "This is literally the only water left of the shelves."
Nothing but Dasani at this store either.
"All the water is gone but the Dasani," one user noted.
While another added: "Water at my grocery store getting cleared but the Dasani still sittin."
Why will no one drink this stuff?!
"If I wanted something that tasted like Dasani, I'd just stick my head in the sewer with my mouth open for free," another user stated. "Why would anyone pay for that nasty ass water."
Some users took to social media to defend the brand, with one writing: "I'd rather drink Dasani than arrowhead."
The best way to prevent contracting or spreading coronavirus is with thorough hand washing and social distancing. If you feel you may be experiencing symptoms of coronavirus, which include persistent cough (usually dry), fever, shortness of breath, and fatigue, please call your doctor before going to get tested. For comprehensive resources and updates, visit the CDC website. If you are experiencing anxiety about the virus, seek out mental health support from your provider or visit NAMI.org.