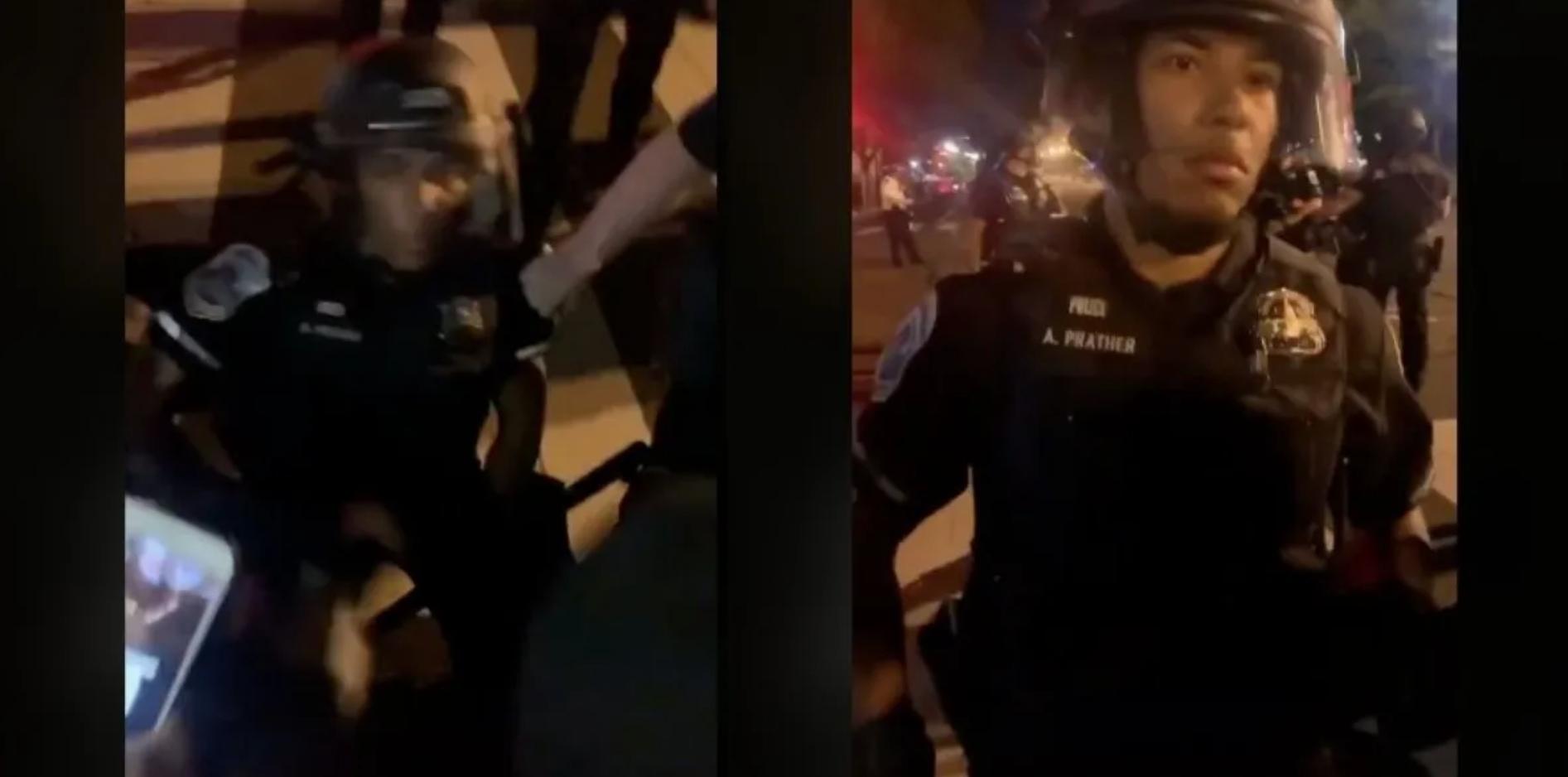 Cops drag kneeling officer to his feet. A visceral reminder of what good police are up against.
By Annie Reneau

Jun. 23 2020, Updated 11:32 a.m. ET
A TikTok video showing a police officer attempting to kneel with protesters has gone viral—but not for his kneeling. The video shows an officer in Washington, D.C. kneeling in front of a group of protesters—and then immediately being lifted to his feet by fellow officers.
Article continues below advertisement
He knelt again, and was again immediately lifted up by the arms and pulled away. After he walked back to the protesters, an officer came up behind him and spoke something in his ear. (Anyone read lips? It's too noisy to hear what he said.)
Article continues below advertisement
The TikTok post refers to two officers who knelt, and a video posted to Twitter of the same event shows a second officer kneeling at first. According to the Twitter post, the two kneeling officers were black. It appears the officers preventing the kneeling are white.
Article continues below advertisement
We've seen police officers of all races kneeling and walking with protesters this week, while at the same time seeing police responding to peaceful protesters with tear gas and rubber bullets. Some don't trust the shows of solidarity, especially when they are followed up by militarized responses. Some feel that sincere cops who agree with the protests aren't doing enough to make that clear with their actions.
This video footage is a visceral reminder of what good cops are up against when they go against the "blue code." Part of these protests has to do with bad cops not being held accountable by their colleagues. Too many cops will cover for one another when they break the law or violate human decency—yet these officers won't allow their colleagues to show solidarity with protesters and diffuse the situation by expressing their agreement with the cause. It's striking.
Article continues below advertisement
These protests are about this kind of "police vs. the community" vibe that's created when policing is done with violence and brutality. When a community doesn't feel protected by the people who are supposed to be protectors of the community, something is wrong.
This is about far more than just arresting the officers complicit in George Floyd's death. Individual cases of justice are important, but ongoing, systemic injustice needs to be addressed. Accountability. Reform. Better screening and training. Prioritizing deescalation and listening to what communities really want. Getting rid of racist policies and ousting racist police officers.
Too little has been done for too long. We need police like these two officers—who understanding the heart of the issue and are courageous enough to go against the status quo—to push leadership into making real, lasting change. Otherwise we're going to keep on ending up right where we are.