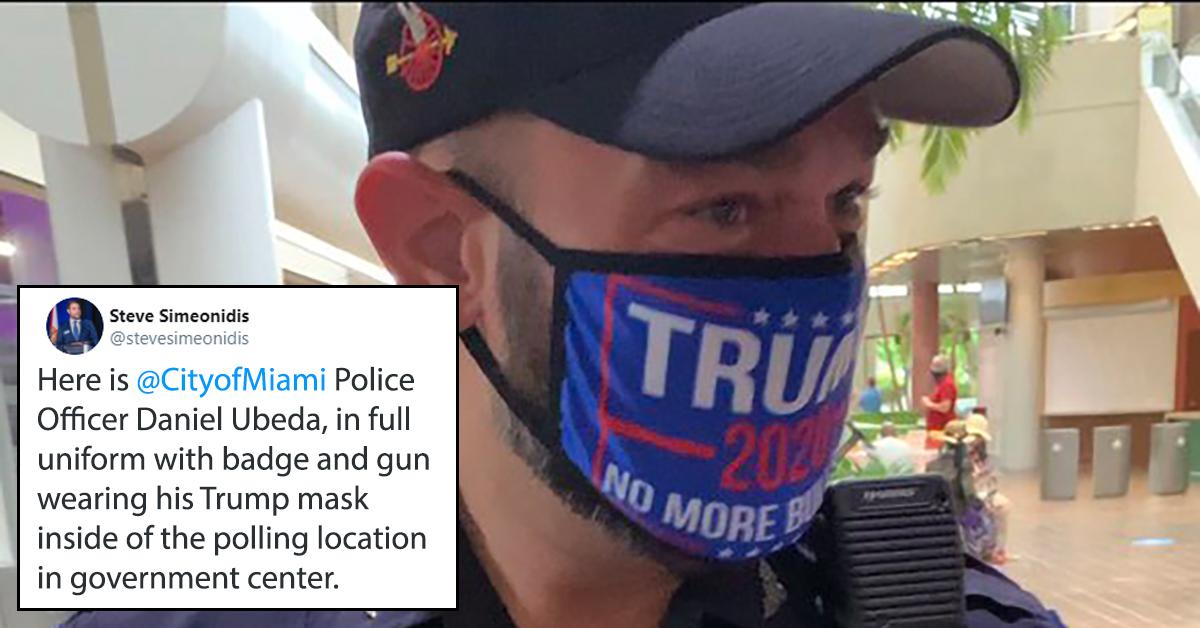 Cop will be disciplined after wearing pro-Trump face mask near early voting site
By Mark Pygas

Oct. 21 2020, Updated 12:09 p.m. ET
A Miami police officer will face disciplinary action after wearing a pro-Trump face mask while dressed in full uniform with a badge and a gun at an early voting site. Steve Simeonidis, the chair of the Miami-Dade Democratic Party, described the event as a "brazen" attempt at voter intimidation.
Article continues below advertisement
Simeonidis was moving through Stephen P. Clark Government Center, which is being used as an early voting site, when he spotted Officer Daniel Ubeda in a mask that read "TRUMP 2020; NO MORE BULLSHIT."
Simeonidis took to Twitter to write, "Here is City of Miami Police Officer Daniel Ubeda, in full uniform with badge and gun wearing his Trump mask inside of the polling location in the government center. This is city-funded voter intimidation. Ubeda should be suspended immediately."
Article continues below advertisement
Simeonidis told BuzzFeed News that Ubeda got within 10 feet of voters. According to top the publication, no one is allowed to solicit voters inside or within 150 feet of the entrance to a voting site. Intimidating voters is illegal under both state and federal laws.
"I just said, 'Excuse me, officer, I just want to take a picture,' and he made some snide comment," Simeonidis told the publication. "He called me 'sweetheart' or something like that — just complete disregard of the fact that he was intentionally intimidating voters at the polling location."
Article continues below advertisement
"In my mind, it's per se voter intimidation," Simeonidis said. "He knew exactly what he was doing when he was walking into that polling site with a gun and that mask on." He added that he watched Ubeda "hovering for a bit" in "full view of dozens of people that were casting their ballots."
"It was a brazen act of intimidation," Simeonidis added.
Deputy Police Chief Ron Papier told the Miami Herald that "appropriate disciplinary action" will be taken against the police officer. "Obviously this is a clear violation of our department policy regarding campaigning while on duty," Papier said. "Additionally, the mask has offensive language, which is also a violation of department policy."
Article continues below advertisement
Simeonidis' tweet attracted quite the response on social media. "Unacceptable," one user wrote. "I have been in touch with our police chief. There should be no police presence at polling locations unless they have been called for an emergency. There should be no political messaging as part of our officers' uniforms."
Article continues below advertisement
While another added: "This is illegal in my state. One can't wear or display candidates logos or ads inside of the polls. When I have worked the polls, we have asked people to leave, cover up the item or even turn t-shirts inside out. The distance is walked off & marked where campaigning & signs must end."