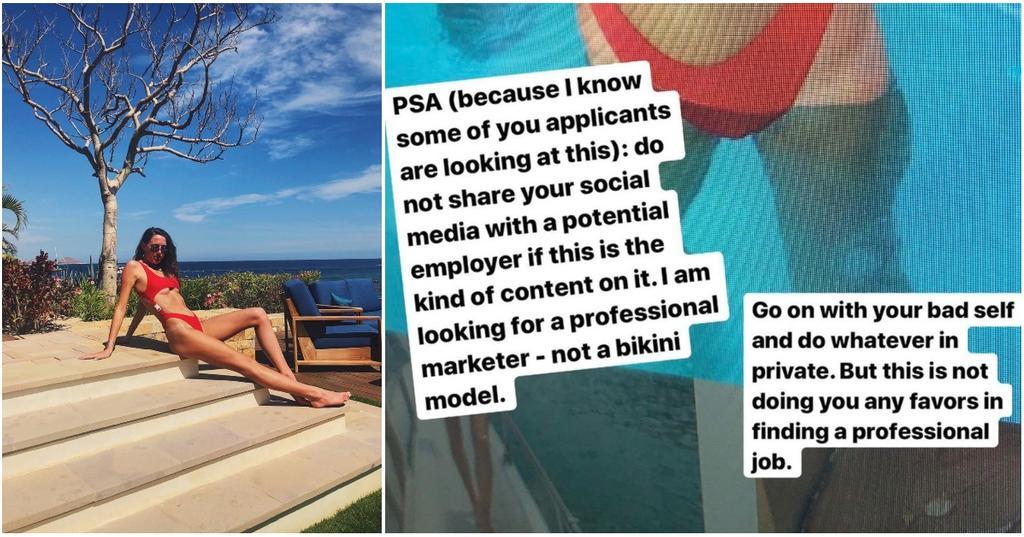 Job applicant 'shamed' by company for posting bikini photos on social media
By Mark Pygas

Oct. 7 2019, Updated 12:02 p.m. ET
Nowadays, it's pretty standard for companies to go through your social media when you apply for a job. Most of the time, it's to find any hateful stuff you might have posted that would come back to haunt them later or that would make you unsuitable for the job.
Article continues below advertisement
When Emily Clow of Austin, Texas, applied for an internship with Kickass Masterminds, she wasn't expecting harmless bikini photos from a vacation to cause any issues.
While Clow was prepping for the interview, she found an image she'd posted of herself reposted to the company's Instagram account along with a caption.
Clow took to Twitter to share a screenshot of the company's post, writing: "I was objectified earlier today by a company because of a picture of me in a bikini. They claimed it made me an 'unprofessional.' They screenshot the photo, posted it on their [Instagram] story and called me out. I am still baffled that the company handled it in such a manner."
Article continues below advertisement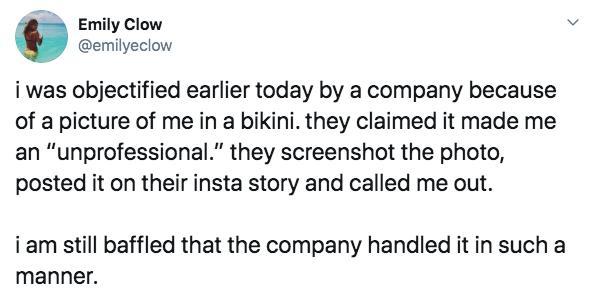 Clow shared the company's Instagram post in a further post.
Article continues below advertisement
"PSA (because I know some applications are looking at this): do not share your social media with a potential employer if this is the kind of content on it. I am looking for a professional marketer — not a bikini model," the company's post read. "Go on with your bad self and do whatever in private. But this is not doing you any favors in finding a professional job."
Article continues below advertisement
Clow also shared a screenshot from the company's LinkedIn page, which describes the company as being for "rebellious business owners. They yearn for freedom and are ballsy enough to chase it."
Criticizing someone for posting a bikini photo doesn't seem to match that description at all.
Clow told NBC News that the company had reached out to her and said the firm wanted to move ahead with the application process, recommending she follow them on Instagram. As she was scrolling through their story, she spotted the photo of herself along with the warning.
Article continues below advertisement
"You don't expect a potential employer to do something like this," she told NBC. "To have someone that seems really intrigued and wants to meet with you, only to see this is shocking."
Clow contacted the company multiple times requesting the image be taking down, but claims she was blocked after the third attempt.
She decided to share the moment on Twitter to spark a dialogue about employers who shame employees or potential hires.
"What I want to be is transparent," she said. "To have all these people be so supportive and share their stories is amazing."
Article continues below advertisement
Clow definitely seems to have the support of the Internet.
One Twitter user wrote: "'Cause nothing says 'professionalism' like putting someone's pool pics on blast." It's really insane that they're crying about being professional while doing the most awful, unprofessional thing in the world.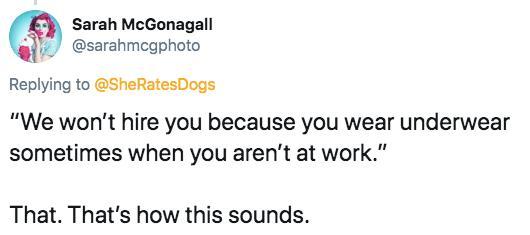 Article continues below advertisement
Another added: "You dodged a bullet with that company! You look super cute in your bathing suit and your professionalism isn't based on what you wear outside of work. I hope the next place you deal with treats you properly!"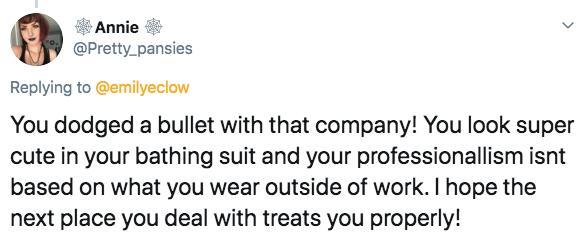 Article continues below advertisement
While one user concluded: "I would hope @kickassmasterm is in the process of firing the person who incited harassment and bullying against an internship applicant."

Kickass Masterminds have since made all their social media private and even deleted their Facebook page. They did not respond to a request for comment from NBC.