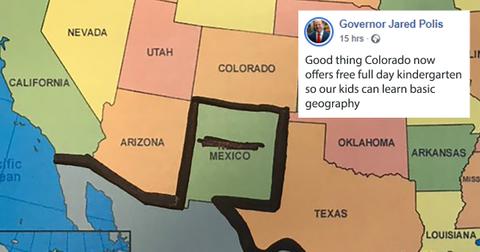 Trump said the border wall is being built in Colorado and people are mocking him
By Mark Pygas

Updated
At a rally in Pittsburgh on Wednesday, President Donald Trump implied that his administration is building a border wall in Colorado, some 390 miles from the border with Mexico. President Trump said:
"And we're building a wall on the border of New Mexico. And we're building a wall in Colorado. We're building a beautiful wall. A big one that really works — that you can't get over, you can't get under. And we're building a wall in Texas. And we're not building a wall in Kansas but they get the benefit of the walls that we just mentioned. And Louisiana's incredible."
President Trump later took to Twitter to say that he was "kiddingly" talking about a wall in Colorado. He said that he was speaking to "people in the very packed auditorium, from Colorado & Kansas, getting the benefit of the Border Wall!"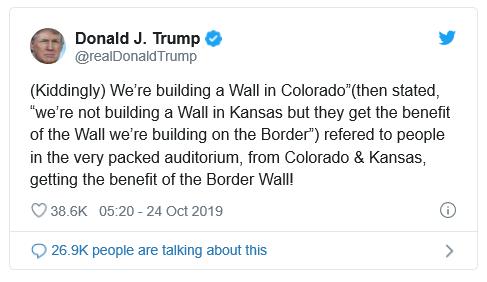 But the comment spread on Twitter nonetheless and even made it to the desk of Colorado Gov. Jared Polis, a Democrat. In a Facebook post, Gov. Polis wrote:
"Well this is awkward...Colorado doesn't border Mexico. Good thing Colorado now offers free full day kindergarten so our kids can learn basic geography."
Unsurprisingly, the governor's stab attracted plenty of comments from his supporters. One user joked: "I am all for a wall all around Colorado."

While another added: "It will be a great wall, the greatest wall ever built in colorado, it will overshadow that other wall they have (hint, we dont have one)."

Gov. Jared Polis wasn't the only politician to get involved, with Senator Patrick Leahy, D-Vt, sharing this quick fix to a map of the continental United States.
While comedian Chelsea Handler joked: "I took my SATs on ecstasy, and even then I knew where Colorado was located."
Former Colorado governor John Hickenlooper also mocked Trump's statement, tagging Seators Martin Heinrich and Tom Udall of New Mexico in a tweet.
"Do one of you want to break it to [Donald Trump] that Colorado's border is with New Mexico, not Mexico...or should I," he wrote.