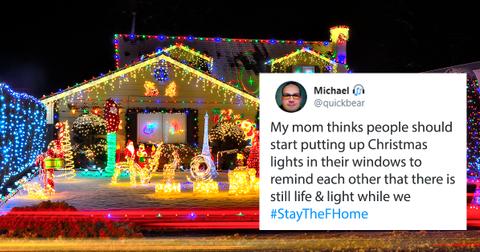 People are putting their Christmas lights back up during the coronavirus quarantine to bring cheer during dark times
By Mark Pygas
With the coronavirus pandemic completely shutting down many aspects of our lives and even resulting in job losses for many, it can be challenging to find something cheerful about our current situation. But some people have decided that a little Christmas cheer is what the world needs right about now.
Across social media, people have been sharing photos of their resurrected holiday light displays. "My mom thinks people should start putting up Christmas lights in their windows to remind each other that there is still life & light while we stay at home," one user explained.
Another user took to Twitter to share some of their neighbors displays, writing: "Today a few of my neighbors decided we needed a bit more light in this dark time and decided to turn their Christmas lights back on. I hope it brings a smile to you face like it did mine."
This user put the lights back up at the suggestion of her son, writing: "My youngest son was bored today and said, 'can we put Christmas lights on our tree outside to cheer us up?' Great idea buddy. Lights are on tonight as a sign of hope and the sweet mind of my 10 year old."
For some people, it was just a matter of turning the power back on.
"Since the snow has been too deep to take the Christmas lights down, I'm turning them back on," another added. Because couldn't we all use a little light and hope right about now?"
"Our neighborhood is putting our Christmas lights back up to inspire good feelings and support for everyone," one user explained.
People seem to love the idea, with one writing: "I saw someone suggest putting Christmas lights back up as a way to spread cheer it what could otherwise be a dark time. Not gonna lie, I kind of love the idea."
"There are dark times ahead, but I can still put love & light out into the world," one user added. "Some folks have mentioned putting up Christmas lights to cheer up people in quarantine, in isolation, or just to remind the world there's still light & hope. Here's my contribution."
What a great idea to being some cheer.
The best way to prevent contracting or spreading coronavirus is with thorough hand washing and social distancing. If you feel you may be experiencing symptoms of coronavirus, which include persistent cough (usually dry), fever, shortness of breath, and fatigue, please call your doctor before going to get tested. For comprehensive resources and updates, visit the CDC website. If you are experiencing anxiety about the virus, seek out mental health support from your provider or visit NAMI.org.