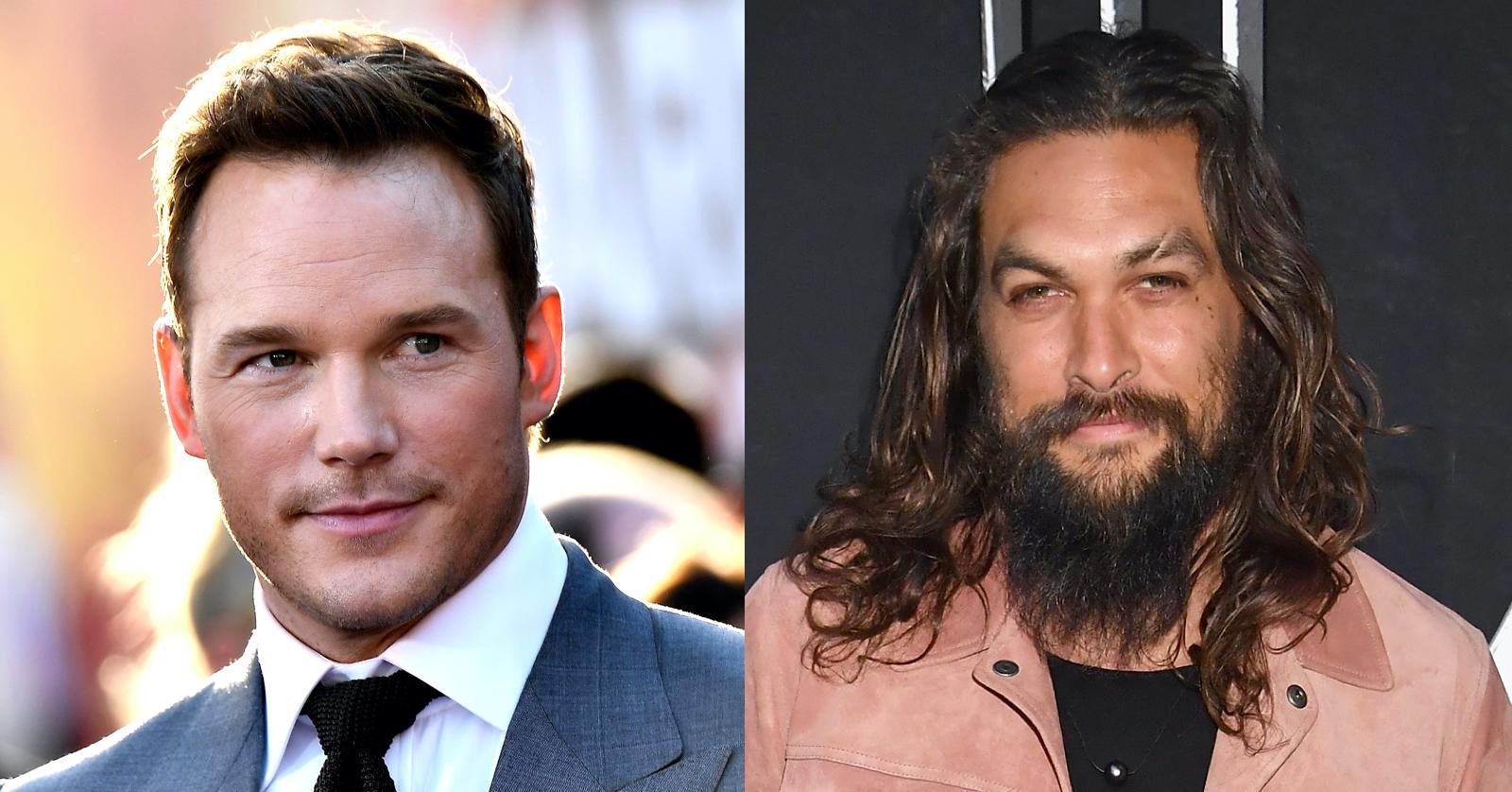 Chris Pratt and Jason Momoa bring attention to the single-use plastic crisis with Instagram conversation
By Sophie Hirsh

Dec. 4 2019, Updated 11:27 a.m. ET
Jason Momoa has made his passion for protecting the oceans from plastic very clear over the past few months — he even channeled that spirit into the launch of his own aluminum water can company, Mananalu. So when he saw his fellow on-screen superhero Chris Pratt using a single-use plastic water bottle in an Instagram post, he couldn't help but leave a comment — and it resulted in a bizarre yet nice conversation between the two actors.
Article continues below advertisement
On Tuesday, Dec. 3, Pratt posted an ad promoting his Amazon list to his Instagram page. Of course, Amazon is a pretty environmentally-unfriendly corporation in itself — but all Momoa could see was the clear plastic water bottle in Pratt's hand as he casually leaned against a treadmill.
Article continues below advertisement
"bro i love u but wtf on the water bottle. no single use plastic. come on," Momoa commented on his The Lego Movie 2: The Second Part co-star's post. His comment quickly blew up, garnering more than 53,000 likes and more than 1,000 replies. While some people supported Momoa for calling out single-use plastic, others criticized him for calling out Pratt for using a plastic water bottle one time.

Article continues below advertisement
Later in the day, Pratt responded to Momoa's comment, explaining why he had the single-use water bottle in the first place. "Aquaman! You're completely right. Dammit," Pratt wrote. "I always carry my reusable big gallon size reusable water jug around with me too. I even had it that day!!! If I remember correctly somebody threw that plastic bottle to me in the photo shoot cause I didn't know what to do with my hands! I never know what to do with my hands! So uncomfortable." Andy Dwyer vibes, anyone?
Pratt wrapped up the comment with a casual PSA of the three Rs. "For real tho. Love you buddy. My bad," he wrote. "I don't want your home of Atlantis covered in plastic. Hear that kids? Reduce. Reuse. Recycle."
Article continues below advertisement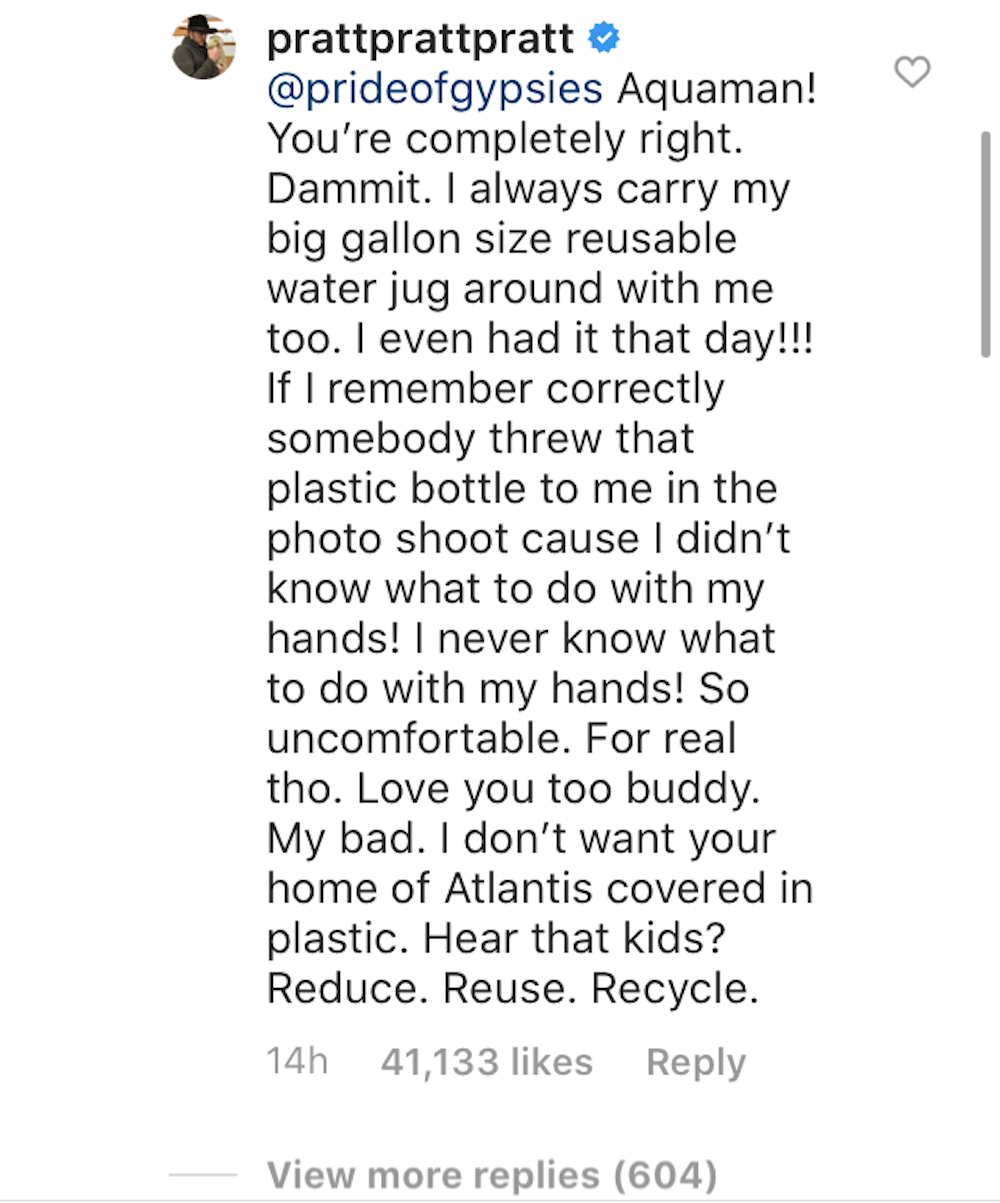 Momoa was clearly moved by his fellow actor's kind response and explanation, and he responded by sharing an ode to him on his profile, along with a photo of himself and Pratt. "BRO you know my children and I are madly in love with you and I love everything you do. I'm sorry this was received so badly today I didn't mean for that to happen," Momoa captioned the picture. "I'm just very passionate about this single use plastic epidemic. the plastic water bottles have to stop i hope u make a reusable water bottle for amazon so we all can purchase. You're an inspiration to many I'm one of them. I'll send you a case of MANANALU. All my Aloha, Da Momoa's."
Article continues below advertisement
While it's nice of Momoa to send some Mananalu bottles to Pratt, it's important to remember that reusable items pretty much always have a lower environmental impact than single-use products — even when the single-use products in question are made from aluminum instead of plastic. Not to mention, Pratt claims to have his own reusable water bottle, and there's even a reusable water bottle on the Amazon list his ad was promoting, so he doesn't really need single-use water cans.