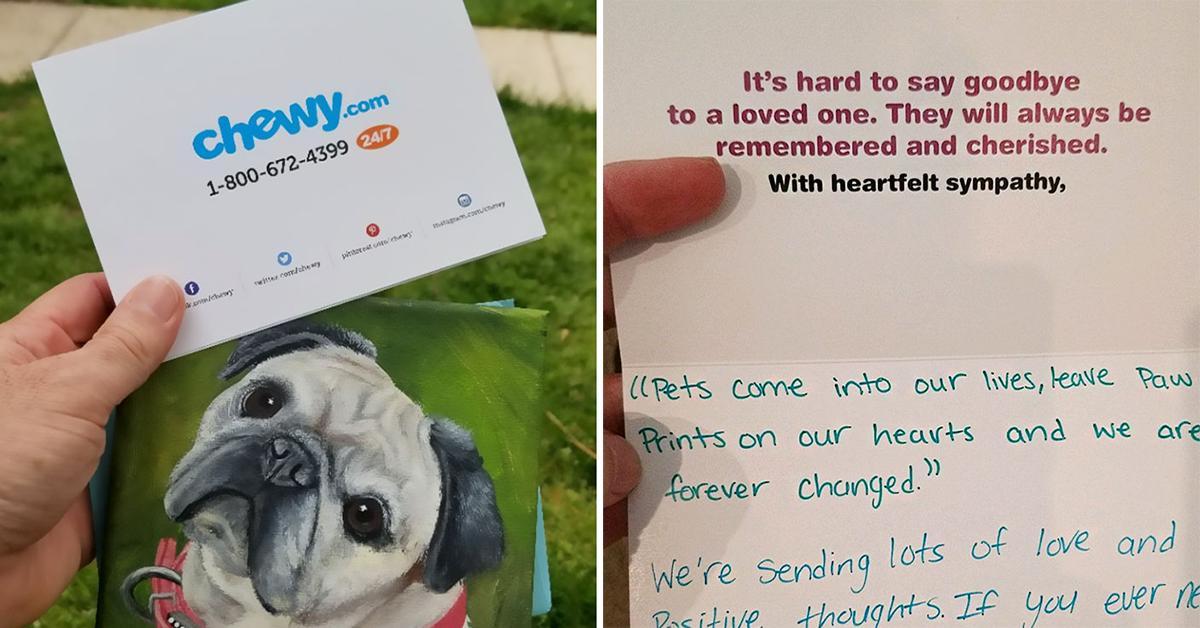 Man asks for refund on pet food after dog passes away, gets an oil painting instead
By Mark Pygas

Jun. 15 2020, Updated 8:18 a.m. ET
There are few things tougher than losing a beloved pet. They're always there for you, 24 hours a day, 7 days a week, through the best and the worst, for the entirety of their lives. Thankfully, there are always people who understand that loss to help you through it.
Article continues below advertisement
But for Joseph Inabnet of Falls Church, Virginia, that help came from an unlikely place. Inabnet took to Facebook to explain that in October, he had to have his beloved pug Bailey put down. Like many older dogs, she'd been put on prescription dog food, which Inabnet was ordering through the online store Chewy.
Inabnet decided to try and reach out to Chewy to see if they would let him return a 70% bag of unopened food. They did return the money, but told Inabnet to donate the food to a local shelter instead of returning it. While that was a kind enough gesture for Inabnet already, he didn't expect to receive a parcel from the company a few days later.
Article continues below advertisement
To his surprise, the parcel included a card and an oil painting of his late dog, Bailey.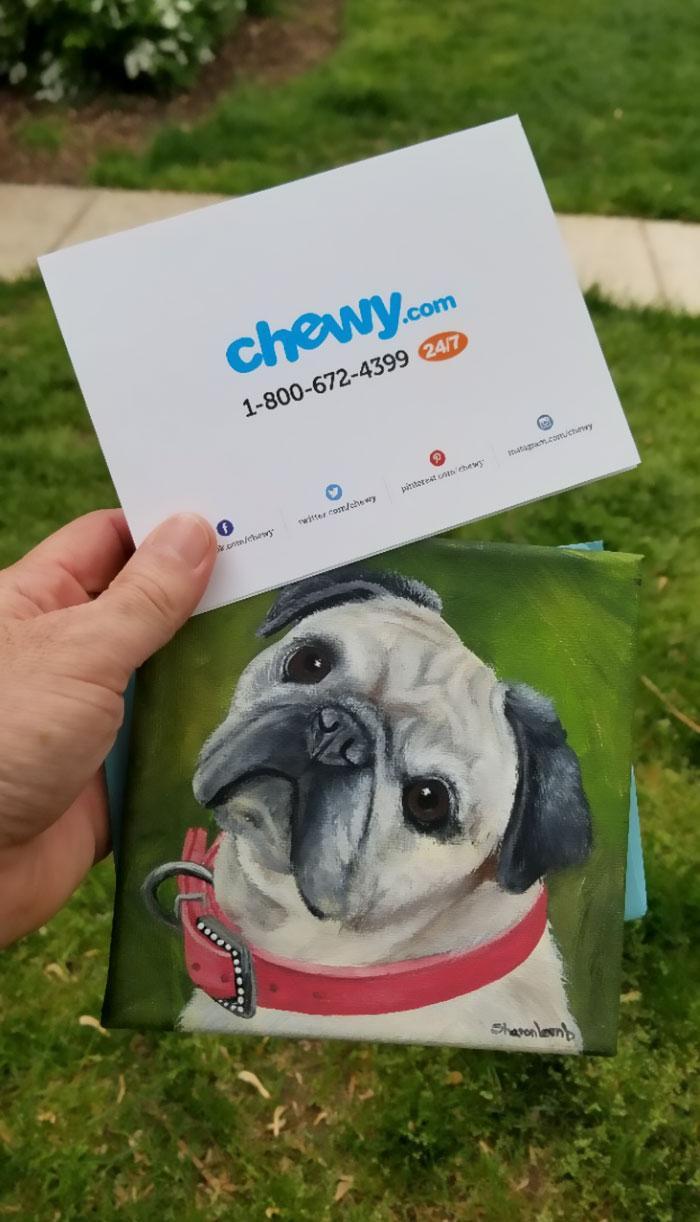 Article continues below advertisement
The card read:
"It's hard to say goodbye to a loved one. They will always be remembered and cherished."
"'Pet come into our lives, leave paw prints on our hearts and we are forever changed.'"
"We're sending lots of love and positive thoughts. If you ever need anything, we're always here."
"Warmly, The Chewy Family."
Unsurprisingly, Inabnet was touched by the thought of the gift. He took to Facebook to share photos and his post has since received over 80,000 shares and 4,000 comments.
Article continues below advertisement
Inabnet wrote:
"If anyone has ever dealt with Chewy.com, they probably know just how wonderful their customer service is. But today, it went to the next level. I had to put my Bailey down in October. She had been on prescription dog food, and I had a brand new unopened bag (about $70). I asked Chewy if I could return it. They told me to donate it instead, and they returned my money. GREAT customer service; right? IT GETS BETTER!!"
Article continues below advertisement
"Today, completely out of the blue, I received from Chewy.com the card and painting below. I have also provided picture of Bailey that I must have uploaded to Chewy at some time. This is a real oil painting, and the artist, Sharon LaVoie Lamb, did an amazing job. I don't know how to make something go viral, but Chewy.com deserves recognition for their outstanding attention to detail and customer service."
Chewy were among those to see the post, adding:
"It is truly our pleasure and honor to be here for you and your family, Joseph. We can't thank you enough for sharing Chewy love all around. We hope that the portrait was able to bring some comfort to your home and may fond memories of your beloved Bailey warm your heart always. Please know that Bailey will always have a special place in our hearts. If you need anything at all, even just someone to talk to, we'll always be here for you."
Article continues below advertisement
Unsurprisingly, Facebook commenters loved the thought that went into the gift too. One user applauded Chewy:
"Chewy is amazing and wow this is beyond beautiful," they wrote. I'm sorry for your loss of your beloved dog."
Another user added: "That's awesome. A company that thinks beyond taking your money."
Other users shared similar experiences with the company.
"They are amazing," one commenter added. "I ordered wrong stuff before... my mistake. They also told me to donate it to dog shelter which I did and they refunded me. They are amazing I use them a lot!"