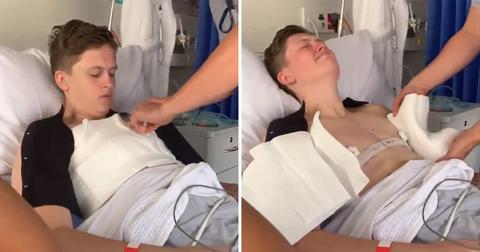 Trans man's reaction to seeing his chest after surgery has everyone weeping
By Mark Pygas
A video of a transgender man's emotional reaction to seeing his chest for the first time after surgery is going viral. The 22-year-old Australian took to Twitter to share the moment in the hopes of showing the emotional roller coaster that trans people go through.
Twitter user Sol, aka @capritran, tweeted the video alongside the caption: "I'd like to share my very personal chest reveal moment with the world, to hopefully show that despite the endless negative experiences we trans people have, we also get to experience some of the best feelings in the world. use this video to manifest your own future if you need to."
"Been waiting for this for a long time?" the nurse asks as Sol begins to weep.
Sol went on to add: "I want to thank all of my trans siblings and cis allies for their endless support, whether that's on twitter or not. i wouldn't be here without all of you. Once I've recovered some more, i'll be sharing my experience in more detail to educate others."
The video was quickly viewed more than 11 million times, prompting Sol to provide an update:
"I can't express how thankful i am for every person who has shown their support. by posting this, I wish to show the humanity in trans people that a lot of bigots refuse to see. I also wish to ignite empathy for us. we are not bad or unnatural people. We're just trying to be happy."
And as you can probably imagine, people were incredibly happy for Sol.
"So happy for you," one user wrote. "I've officially scheduled my surgery for April of this year and I'm still in disbelief. Can not wait to experience this moment of freedom for myself."
While others even created their own fan art to celebrate the moment.
And another user added: "I don't know you and I've got a LONG way to go before I understand how to be a proper ally but this video is so moving. Hard for anyone to argue against trans rights when they see the pure relief on your face here. Congratulations for becoming who you really are."