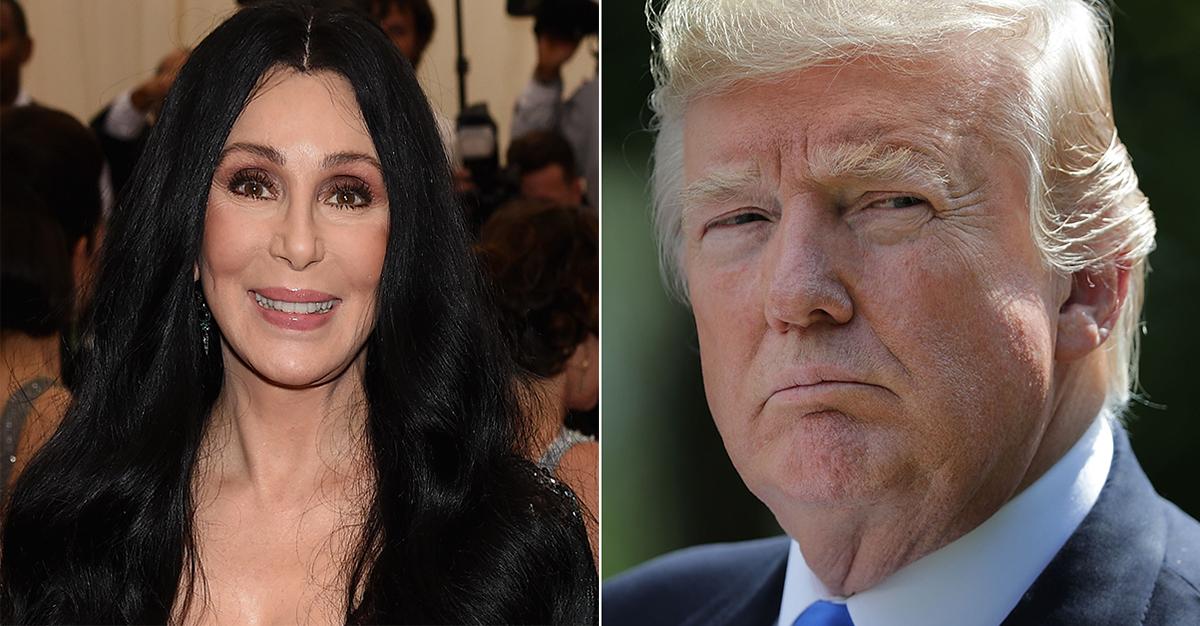 Cher says she's never disliked anyone in her life as much as 'vindictive' Trump
By Mark Pygas

Dec. 15 2020, Updated 9:42 a.m. ET
Singer Cher has revealed her hatred for President Donald Trump in an interview with The Guardian. The pop star icon, who turned 74 this year, has been an outspoken critic of President Trump and even recorded a song for Joe Biden's presidential campaign, 'Happiness Is Just a Thing Called Joe'.
Article continues below advertisement
Asked how Trump had changed the culture of America, Cher replied: "It's toxic. People who just disagreed with each other before are now enemies. I hate to even call him a president because all he does is watch TV."
"I said if Trump can't be in the White House, he's going to burn it down," the singer added. "He's trying to block Joe at every moment. He's the most vindictive person I've ever witnessed. I think he's fighting so hard because he's going to be prosecuted when he gets out of the White House."
Asked if Trump could end up in prison, Cher replied: "Oh, I hope so. I'll be dancing around."
"I hate him," she added when asked if she had ever hated anybody like this before. "No, in my whole life, never. I pretty much disliked Bush when he started those wars, and I could say for a minute it was touch and go for hate. But the one thing I know is he loves America and Trump doesn't."
Article continues below advertisement
The conversation then turned to the singer's animal conservation efforts, with Cher slamming Trump for ignoring the threat of climate change.
"I live in a particularly beautiful spot, but the fires are just killing us. A fire came right up my house and burned the side of it. I was so lucky," she said. "It's climate change. And he wouldn't give us any money for it. He hates us. He hates California. He doesn't have one drop of goodness in him."
Trump has a long history of denying climate change, claiming that it is a hoax perpetrated by China. "The concept of global warming was created by and for the Chinese to make U.S. manufacturing non-competitive," Trump claimed in 2012.
As president, Trump made the controversial decision to pull the United States out of the Paris Climate Agreement.
Article continues below advertisement
"I'm not denying climate change. But it could very well go back. You know, we're talking about over a millions of years. They say that we had hurricanes that were far worse than what we just had with Michael," Trump claimed in 2018.
Article continues below advertisement
Cher also slammed Trump while discussing the transition of her son, Chaz Bono.
"We've gone backward 20 years," Cher said. "We were making great progress and now all these conservative people don't want black people voting, they don't want Latino people voting. They don't want trans people here. They want to go back to the 50s; antebellum days, if they could."
Last year, the Supreme Court allowed Trump's ban on transgender people serving in the military to be enforced even as it faced numerous legal disputes. Trump claimed that the ban was based on financial reasons and not prejudice against people who are transgender. Under President Obama, the US government began paying for the medical costs of transgender service members. However, this spending made up a tiny fraction of total health spending by the military.