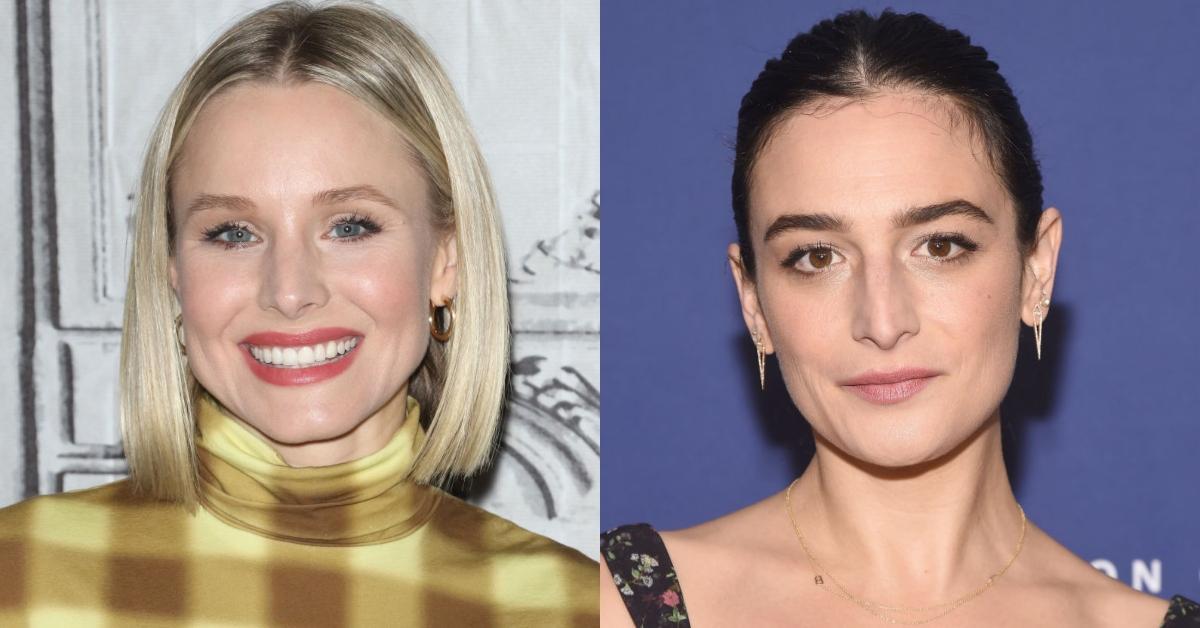 White celebs who have given up their roles voicing characters of color
By Robin Zlotnick

Jul. 6 2020, Updated 7:02 a.m. ET
As Black Lives Matter protests flood the country, countless white people in many industries are finally reexamining the implicit biases and institutional racism that plagues them. One of those industries is Hollywood. More specifically, white voice actors have begun doing the responsible thing and stepping down from voicing characters of color in animated TV shows.
Article continues below advertisement
Although people like Jenny Slate and Kristen Bell are largely being applauded for these small steps toward representation and equality, the question of why these actors were cast in these roles to begin with still remains. Decisions like casting have to be approved not only by the actors but by showrunners and network executives.
The fact that these actors were cast to play characters of color at all speaks to an entrenched whiteness in Hollywood that starts at the bottom of the ladder and creeps insidiously all the way up. White actors stepping down from these roles is one teeny step. People of color being cast in these roles in the first place and being allowed to earn positions of power at networks and studios should have been the norm before. These are the actors who have, no matter how little or late, finally done the right thing.
Jenny Slate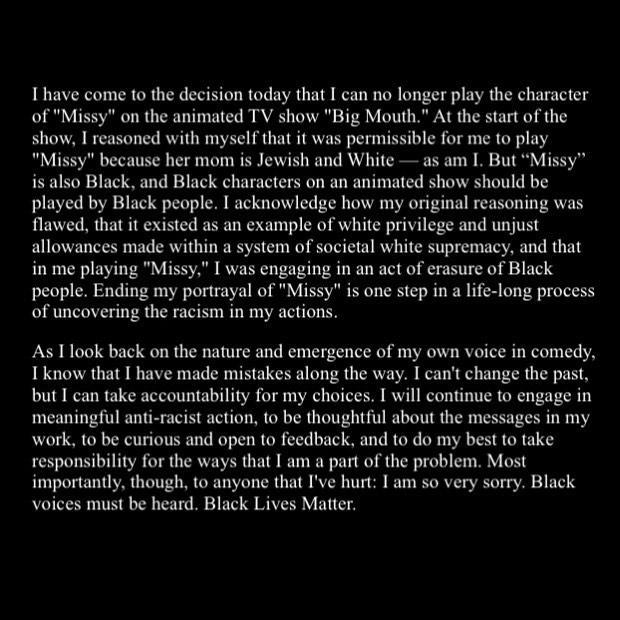 For three seasons of Netflix animated series Big Mouth, Jenny Slate voiced Missy, a mixed-race character. But Jenny Slate is white, and Missy is not. In a statement on Instagram, which was supported by Nick Kroll, one of the creators of the series, Jenny Slate said she would be stepping away from the character because "Black characters on an animated show should be played by Black people."
Article continues below advertisement
Kristen Bell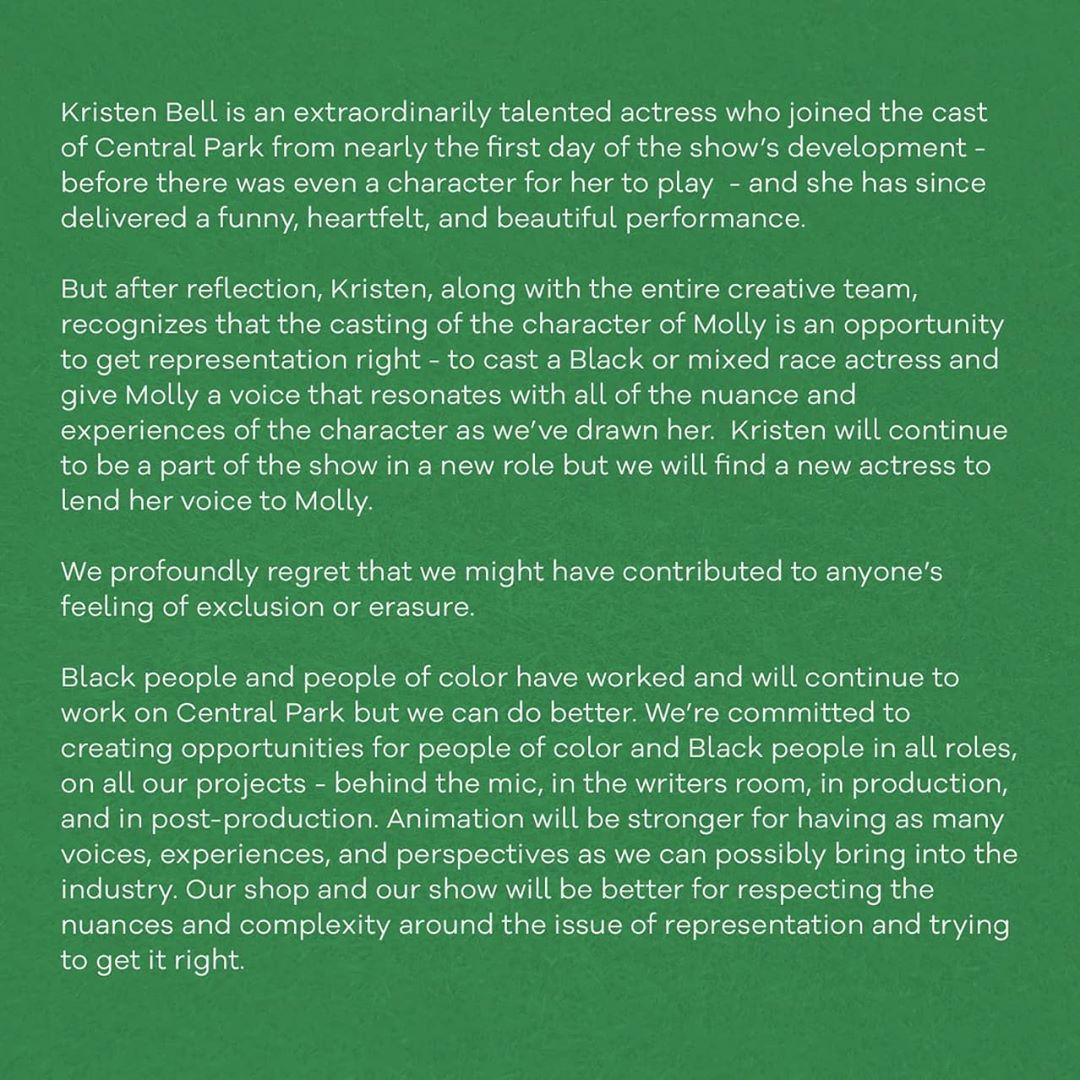 Similarly, Kristen Bell voiced Molly, a mixed-race character on the AppleTV+ show Central Park, which debuted this year. One day after Jenny Slate made her statement, Kristen Bell posted this statement from the show stating that she would be stepping down from the role.
Article continues below advertisement
In her Instagram caption, Kristen wrote, "Playing the character of Molly on Central Park shows a lack of awareness of my pervasive privilege. Casting a mixed-race character with a white actress undermines the specificity of the mixed-race and Black American experience."
Although this is absolutely the right thing to do, she never should have been cast in the first place. The show's creator, Loren Bouchard, had been questioned about the decision back in January. At the time, he said, "Kristen needed to be Molly; we couldn't not make her Molly. But then we couldn't make Molly white and we couldn't make Kristen mixed race so we just had to go forward."
Of course, Kristen didn't have to play the role; she very easily stepped down when it became socially convenient. If only the creators of Central Park didn't have to be poked and prodded to do the right thing.
Article continues below advertisement
Mike Henry
Mike Henry is a white guy who has played Cleveland Brown, a Black character, on Family Guy and The Cleveland Show, for 20 years. Twenty! Years! He recently took to Twitter to say that he would be stepping down from the role. This is an important step, but it's also just one teeny, tiny change in a giant sea of changes that need to be made in order for Black people and other people of color to be represented fairly on screen.
Writers rooms need to have writers of color on staff. Assistants need to be paid living wages so that people who don't come from wealthy families can afford to work in the industry at lower levels. Employees of color must be given opportunities to rise through the ranks, run shows, and reach executive levels the same way white employees are.
Article continues below advertisement
Hank Azaria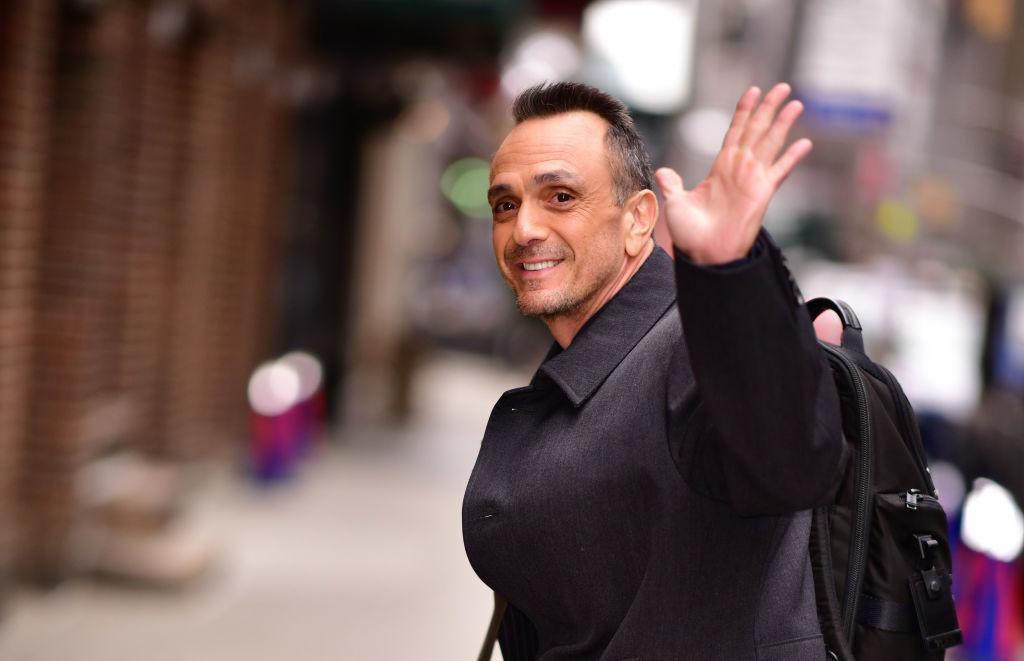 Hank Azaria stepped down from voicing Apu, an Indian character on The Simpsons, in early 2020. This move came after a 2017 documentary called The Problem With Apu, in which filmmaker and comedian Hari Kondabolu confronts the character's issues with the perpetuation of racist stereotypes and calls out Hank Azaria's portrayal.
Article continues below advertisement
In recent weeks, the minds behind The Simpsons have come out and said that as a blanket rule, they will no longer use white actors to voice non-white characters. Hari Kondabolu's response was, "Re: The Simpsons using People of Color to voice minority characters. All it took was 30 years, a documentary, more relevant shows doing it first, and a conversation about racism spurred by police brutality and murder."
Then he added that he would be going off of social media "until the next wave of death threats pass," because of course racist white people blame him for TV shows finally doing the absolute minimum when it comes to proper representation.
Article continues below advertisement
Alison Brie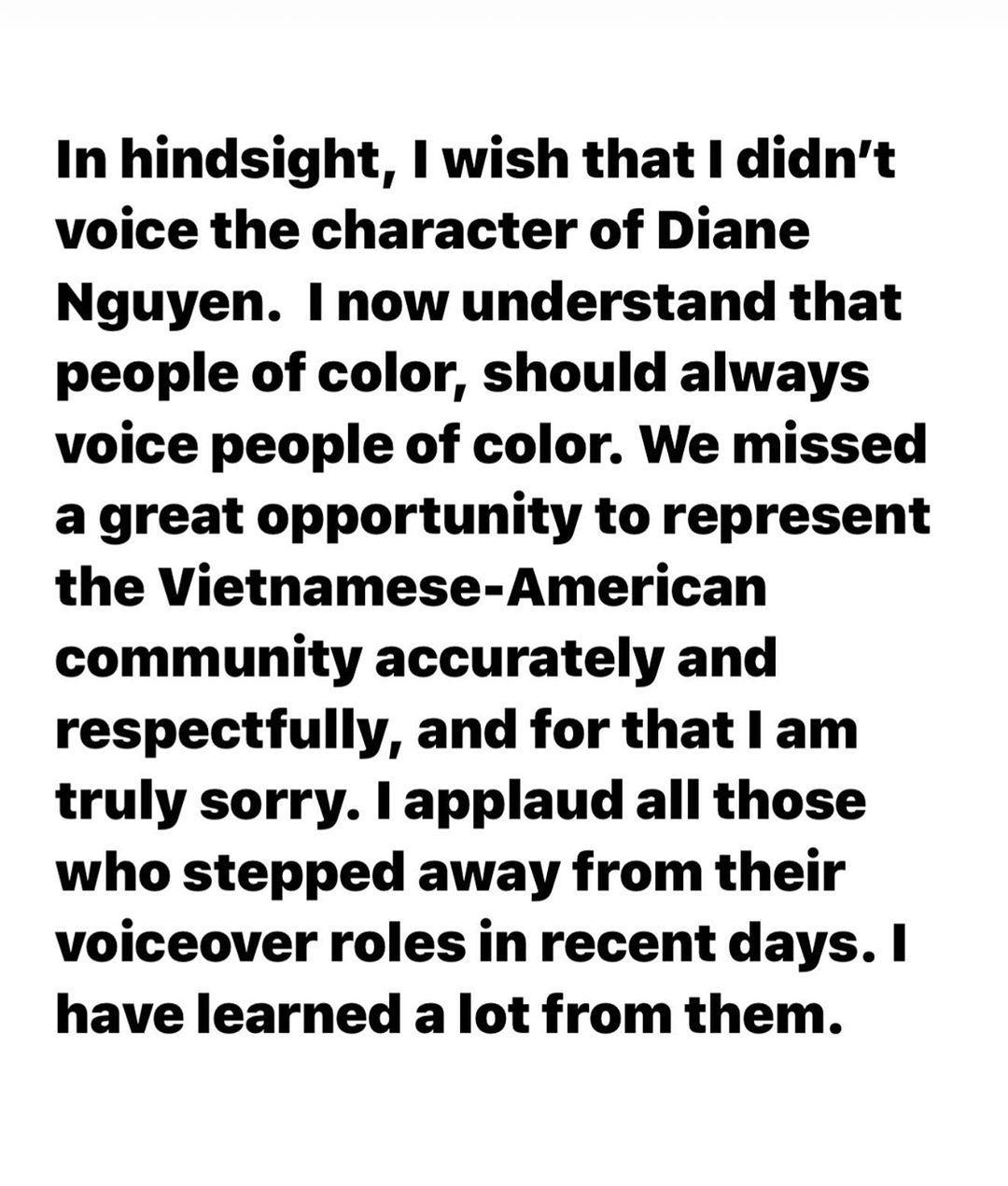 Although the show has ended, Alison Brie expressed regret that she played a Vietnamese-American character for six seasons on BoJack Horseman. The show's creator, Raphael Bob-Waksberg, addressed the controversy in a Twitter thread.
Article continues below advertisement
He owns up to evading concerns about Alison Brie's casting during the first few seasons of the show, and he has since worked hard to learn and take responsibility for what he now realizes was a mistake. "Even in the small ways we wrote to Diane's experience as a woman of color, or more specifically an Asian woman, we rarely got specific enough to think about what it meant to be SPECIFICALLY VIETNAMESE-AMERICAN and that was a huge (racist!) error on my part," he writes.
He concludes, "The appearance of diversity without true diversity behind-the-scenes isn't real representation; worse, it's appropriation."