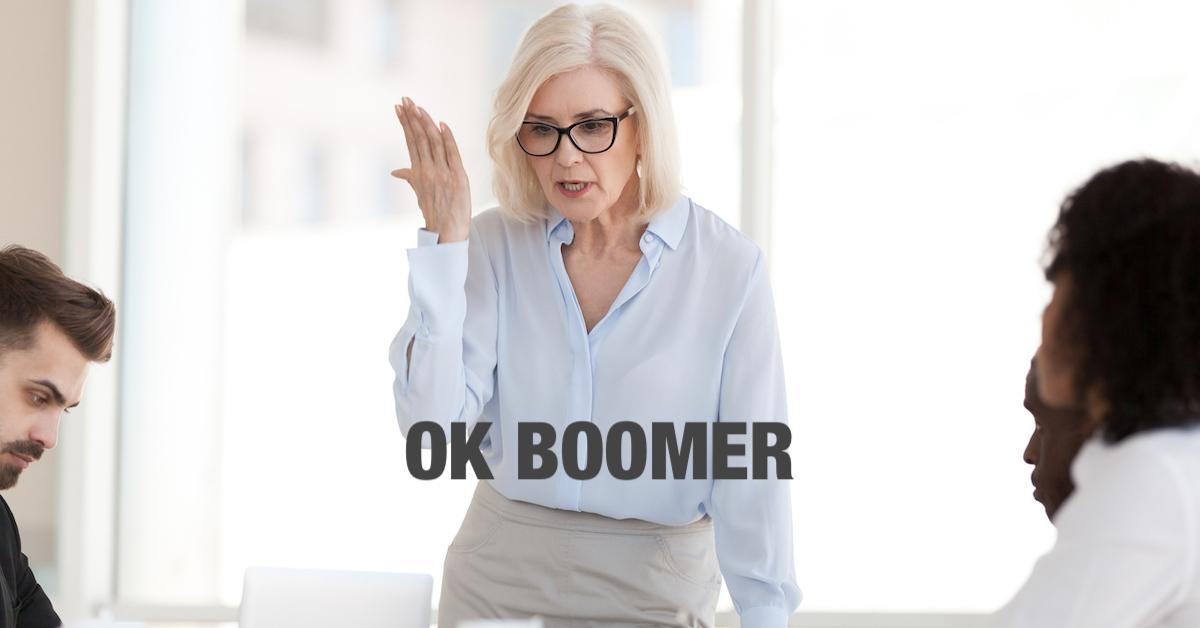 New study says boomers are more sensitive than millennials
By Robin Zlotnick

Jan. 10 2020, Updated 12:00 p.m. ET
A new study has found that baby boomers — people born from 1946 to 1964 — are more hypersensitive and have more narcissistic tendencies than younger generations. The outsized viral reaction of boomers to the "OK boomer" meme seemed to prove that, but now, it's official. It's science that boomers are more likely than millennials to be "snowflakes," to use a word they seem to love.
Article continues below advertisement
The study, which was published in Psychology and Aging, focused on narcissistic behaviors and tracked how they changed in people ages 13 to 70. Nearly 750 people participated in the study. William Chopik, associate professor of psychology at MSU and lead author of the study, told Science Daily, "There's a narrative in our culture that generations are getting more and more narcissistic, but no one has ever looked at it throughout generations or how it varies with age at the same time."
Article continues below advertisement
The findings of the study are particularly interesting because researchers focused on two tracks: individual trends and generation trends. Their findings show that narcissistic traits ("being full of yourself, sensitive to criticism and imposing your opinion on others") generally decline, on an individual basis, as people get older. Some qualities, like "having high aspirations for yourself" increased with age.
"There are things that happen in life that can shake people a little bit and force them to adapt their narcissistic qualities," Chopik said. "As you age, you form new relationships, have new experiences, start a family and so on. All of these factors make someone realize that it's not 'all about them.' And, the older you get, the more you think about the world that you may leave behind."
Article continues below advertisement
By that logic and those findings, boomers should have lower levels of narcissism than younger generations, right? It would make sense that those individual trends carry over when you take a step back and look at each generation. But that's not what researchers found.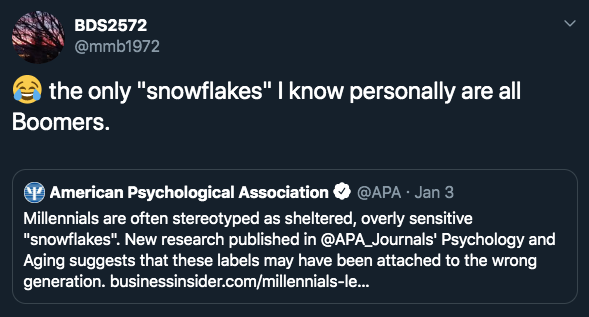 Article continues below advertisement
"One of the most surprising findings was that — also contrary to what many people think — individuals who were born earlier in the [20th] century started off with higher levels of hyper-sensitivity, or the type of narcissism where people are full of themselves, as well as willfulness, which is the tendency to impose opinions on others," Chopik said. "There isn't much data on older generations, but now that Baby Boomers are aging into that phase of life, it's a huge part of the population that we need to be looking at."
Baby boomers? Higher levels of narcissism than millennials? Who ever could have thought this to be the case?! If you have been on the internet, paid attention to the news, or interacted with your older family members at holiday functions, you probably have some idea that boomers have the tendency to impose their opinions on others and think the world of themselves.
Article continues below advertisement
The virality of the "OK boomer" meme is such a perfect distillation of this idea. The "OK boomer" meme was created by younger generations to call boomers out for being out-of-touch with the actual struggles of millennials and Gen Z members. Boomers do the lion's share of claiming that millennials, in particular, are lazy, narcissistic, and unambitious without acknowledging how different the world and the economy look today. The meme was meant to call boomers out on their warped, out-dated perception of the world.
And proving the exact point of the meme, they got so mad about it. Remember when an AARP executive responded to the "OK boomer" meme by saying, 'OK millennials. But we're the people that actually have the money." I remember tweeting at the time something to the effect of, "Yeah...that's literally the whole problem."
Article continues below advertisement
As Chopik mentioned, there was hardly any research about how narcissistic behavior correlates to age and generation before this study. Science Daily writes that with this study's findings, "researchers hope that the public gains a greater understanding about the different types of narcissism as well as new insight to the understudied older populations."
Article continues below advertisement
I have a feeling that millennials probably hope that this study helps open the eyes of boomers who remain willful and indignant. Millennials aren't unable to make a living wage and stuck in "perpetual adolescence" because they're lazy and narcissistic. They're in those positions to begin with precisely because of the narcissism and greed of older generations.
If you need more proof that baby boomers are narcissistic and "hypersensitive," take a look in the comments wherever this article is posted. I'm sure you'll find some evidence there.