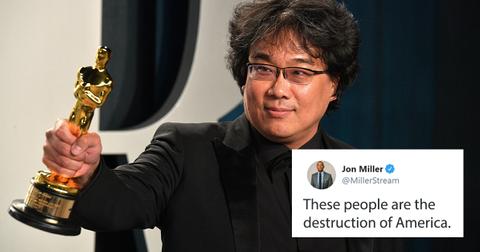 Twitter slams guy who criticized 'Parasite' creator for accepting Oscar in Korean
By Mark Pygas
If you haven't seen Parasite yet, you should. The South Korean black comedy thriller has earned praise from pretty much everyone who's watched it and is being called one of the greatest films of the last decade by some.
That praise continued, where the film picked up four wins, including Best Motion Picture, Director, Original Screenplay, and International Feature. But not everyone appears to have been too happy about the film's success.
In a tweet that has now gone viral, Jon Miller of Blaze slammed Parasite director Bong Joon Ho for not giving his acceptance speech for Best Director in English.
"A man named Bong Joon Ho wins #Oscar for best original screenplay over Once Upon a Time in Hollywood and 1917," Miller wrote. "Acceptance speech was: "GREAT HONOR. THANK YOU. Then he proceeds to give the rest of his speech in Korean. These people are the destruction of America."
In a further tweet, Miller clarified: "'These people' are obviously not Koreans but those in Hollywood awarding a foreign film that stokes flames of class warfare over 2 films I thought were more deserving simply to show how woke they are. That should be clear from the rest of what I tweeted about tonight's production."
While Bong did start and end his speech with some remarks in English, the majority of the address was translated. The speeches of others who accepted awards for Parasite were also translated.
"When I was in school, I studied Martin Scorsese's films. Just to be nominated was a huge honor," he said through a translator. "I never thought I would win."
"When people in the US were not familiar with my film, Quentin always put my films on his list," he said. "Thank you so much. Quentin, I love you."
"Todd and Sam, great directors that I admire. If the Academy allows, I would like to get a Texas chainsaw, split the Oscar trophy into five and share it with all of you."
Bong concluded his speech in English by saying: "I will drink until next morning."
Unsurprisingly, Twitter didn't have any time for Miller's opinion. "That's a bit of an overreaction. He's from Korea, let him accept his well-deserved award in his native language," one user wrote.
The "racism watchdog" also made an appearance.
We'll just assume this tweet isn't PG.
"I'm sorry what?? He cant hear you," another user concluded while sharing a video of Bong admiring his Oscar.
"Imagine living such a charmed life that your biggest fear is Korean screenwriters speaking their native language," another user concluded. "I wish I had your problems man."
While John Legend added: "Do they pay you for these dumb takes or is this something you do for fun."
This meme was made for this moment.