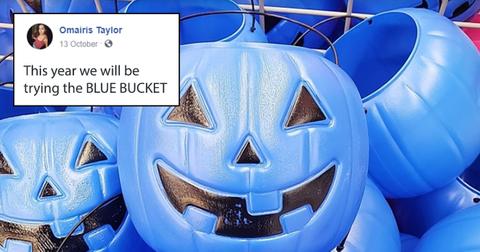 Blue Halloween buckets are being used by kids who can't say 'trick or treat' this year
By Mark Pygas

Updated
It's only two weeks until kids will be knocking at doors across the nation asking for candy. And whether you're handing out full-size or fun-size for Halloween, you might spot something a little unusual this year around. 
Some kids and their parents are planning on using blue Halloween buckets when they go trick or treating. And it's not just an aesthetic choice, it's a signal that the child might not be able to say 'trick or treat' or 'thank you' after knocking on your door. 
Omairis Taylor, a mother with a 3-year-old son who has autism and is non-verbal, came up with the idea in a Facebook post which has since gone viral. 
Taylor started by explaining the issues that she and her son ran into last year while trick or treating. 
"Last year houses will wait for him to say TRICK OR TREAT in order for him to get a piece of candy and there I go explaining the situation for the next 5 blocks," Taylor wrote.
So this year, she got her son a blue Halloween bucket. Blue is the color used to raise awareness of autism. 
"This year we will be trying the BLUE BUCKET to signify he has autism," Taylor continued. "Please allow him (or any other person with a BLUE BUCKET) to enjoy this day and don't worry I'll still say TRICK OR TREAT for him, ill get my mom candy tax later." 
Taylor concluded: "This holiday is hard enough without any added stress. Thank you in advance."
The mother's post has since gone viral, with over 4,400 comments and 119,000 shares. 
The idea is similar to one presented by Alicia Plumer last year, though Taylor's post seems to have attracted a lot more attention. 
Many commenters seemed to imply that they are planning on using a blue bucket when taking children with autism trick or treating this year, so it's worth keeping an eye out on the color of a child's bucket. 
"I used the blue bucket last year when I took my granddaughter," one user wrote. "I was surprised by how many people knew about it."
Another added: "My son's none verbal and will probably trick or treat for years to come. We have tried handing out small cards explaining his behaviors."
One commenter added: "Our 6-year-old grandson also has autism and is nonverbal. We really like the idea." 
It's worth noting that a teal bucket is used by children to indicate that they have a food allergy, so try to avoid getting the two confused. 
Staff members at Pennsylvania Autism Action Center told KSDK that they are aware of the initiative and are encouraging it. 
"We love this campaign. It really gives our kids an opportunity to go out, no matter their age and experience Halloween," said Rachel Brnilovich, PAAC's clinical director. 
"Taking notice of the blue bucket and then just treating them like a child, how any child would be, give them the candy and just move on."