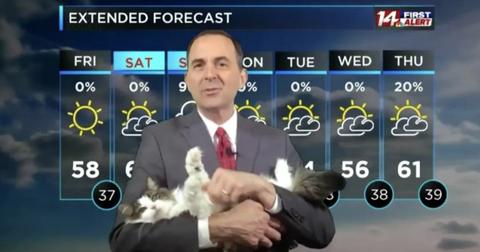 A meteorologist's cat bombed his at-home forecast. Now Betty is his beloved co-host.
By Annie Reneau

Updated
Along with the tragedy and uncertainty that a pandemic brings, some bizarrely delightful stories keep emerging.
Indiana's 14 First Alert Chief Meteorologist Jeff Lyons set up a green screen in his living room and has been giving weather forecasts from home during the lockdown. And though he usually broadcasts alone, he's gotten a new partner to share the weather with—his cat, Betty.
Betty made her debut last week when she wanted some attention during a weather broadcast. Lyons picked up the fluffy feline and cradled her in his arms while he talked about the weather. The response was so great, the station shared a little behind-the-scenes green screen fun with Betty and the clip that ended up airing on television.
Sometimes Betty just hangs out watching her human do his professional human thing.
However, like all cats, Betty doesn't like to perform when requested. (Like how they only want to sit on your lap when you're trying to work. Cats gonna be cats.)
People are loving Betty's cameos in Lyons' from-home forecasts, though. Viewers have even been sharing photos of their own cats on Lyons' Facebook page, and fans have begun tuning in from around the world to see Betty being Betty.
Pets have become even more beloved companions as everyone's lives during the pandemic, as people find themselves spending more time at home and less time with other living, breathing beings. At this point, anything sentient that we're allowed to get close to feels like a best friend.
Thanks for bringing an extra measure of joy to people right now, Betty, and enjoy your newfound fame. (We'd warn you not to let it go to your head, but you're a cat—the diva is already built in.)