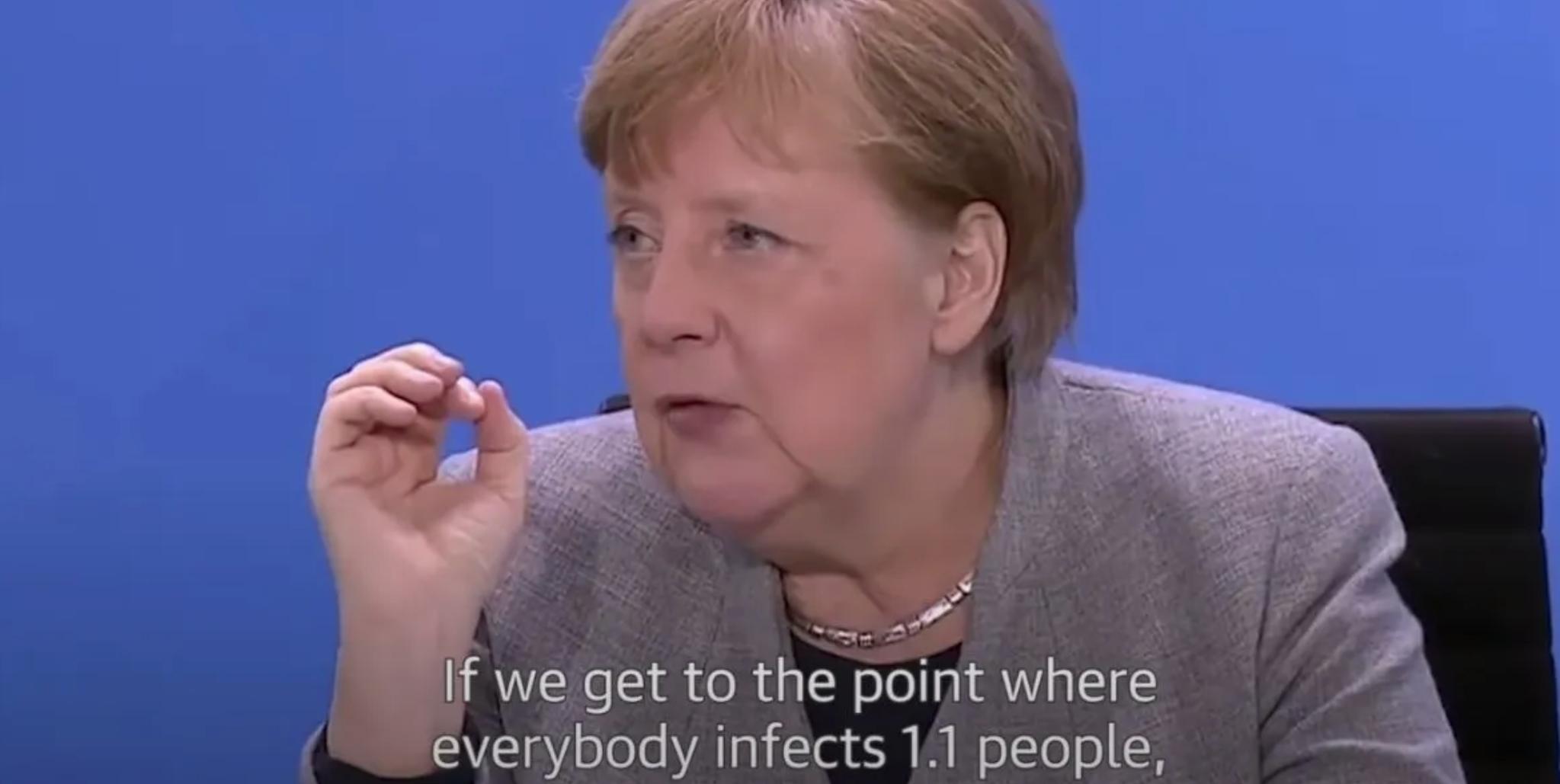 Angela Merkel explained the scientific problem with 'overconfidence' in lifting lockdowns
By Annie Reneau

May 19 2020, Updated 5:16 p.m. ET
This article was originally published in April 2020.
German Chancellor Angela Merkel answered a question about determining how and when to lift the mitigation measures most countries have put into place during the coronavirus pandemic, and her answer shows us what it looks like to have a scientifically competent person leading a country.
Article continues below advertisement
Merkel is an honors graduate with a PhD in quantum chemistry, which undoubtedly makes her one of the most qualified heads of government in this pandemic. Germany, despite being hit hard by the virus, has managed to start flattening their curve and has a far lower death rate than most other countries. (This New York Times article explains some reasons for why that might be.)
Merkel explained why lifting lockdowns is a "fragile" situation that requires caution over overconfidence and described how exponential growth works. In clear terms, she showed how even a small increase in the reproduction number—how many infections an infected person causes—makes a huge difference in how taxed the health system will get.
Article continues below advertisement
Even with a translation from German, Merkel Comments on Merkel's video shared on Reddit show how much people appreciate a smart, educated, well-spoken person in charge—and how stark the contrast is with certain other leaders.
"Well, that's a Politician that understands basic numbers. Most others will try to deliver a speech they don't understand and butcher it."
Article continues below advertisement
"I'm flabbergasted seeing a politician explain the effects of exponential growth with cause and effect. This is so refreshing..."
"I don't understand. Why isn't she saying how great she is and how high the ratings will be for this clip?"
"Weird right? Also I am massively confused, but it feels like she uses long coherent sentences and I'm not used to that."
"When you are suddenly proud to be German and don't know how to deal with it. No, really. By comparison to many other countries, this must be my favorite response. I'm really not a fan of her politics at all, but I'm good with her response to this crisis."
Article continues below advertisement
On the one hand, seeing a leader who not only understands the science but can explain it simply is indeed refreshing. On the other hand, it shines an ugly spotlight on leadership that clearly does not understand the science and can't explain even the most basic concepts in full, coherent sentences.
And what's really sad is that no one even has to name a name for people to know who fits that bill.
Well done, Chancellor Merkel. Let us know if other countries can arrange to temporarily adopt you as our leader, please.