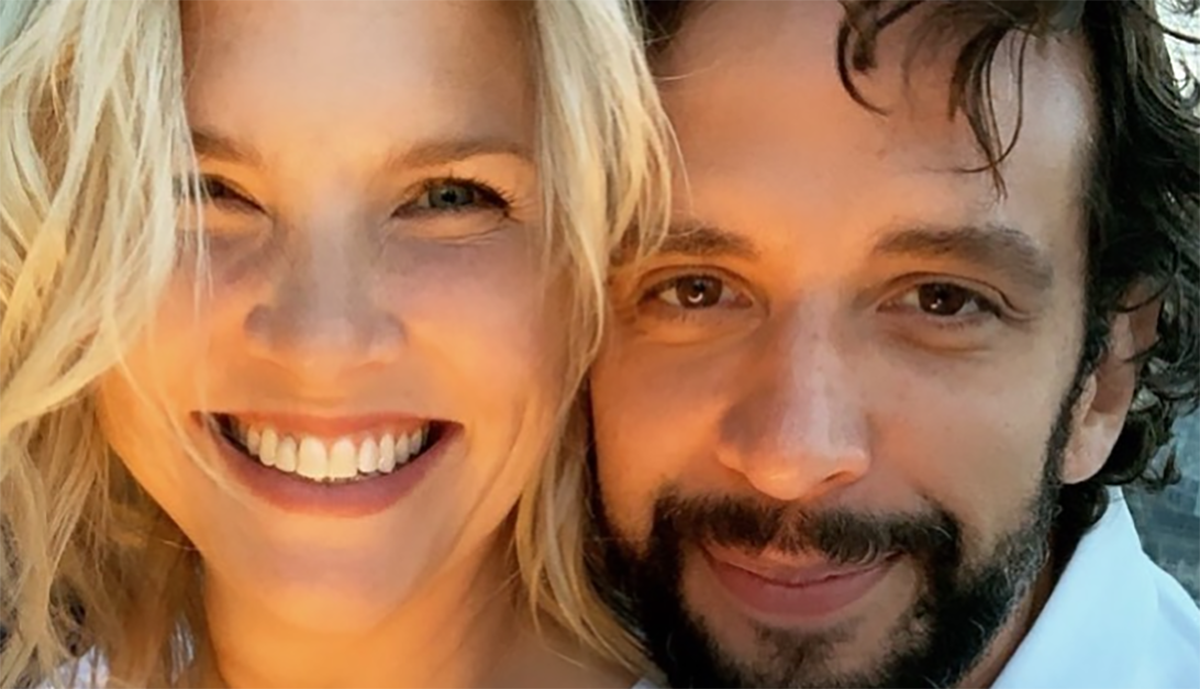 Amanda Kloots slams Trump after he tells followers 'don't be afraid of COVID'
By Mark Pygas

Oct. 7 2020, Updated 8:29 a.m. ET
Amanda Kloots, a fitness influencer and Broadway performer, has slammed President Donald Trump for telling his followers "don't be afraid of COVID." After being discharged from Walter Reed Hospital, Trump said: "Don't let it dominate your life. We have developed, under the Trump Administration, some really great drugs & knowledge. I feel better than I did 20 years ago!"
Article continues below advertisement
The White House doctor revealed that President Trump needed supplemental oxygen and dexamethasone, which, according to the World Health Organization, is recommended for patients "with severe and critical COVID-19."
Kloots, whose 41-year-old husband died of COVID in July, warned her followers that the disease "IS something to be afraid of."
In an Instagram post highlighting Trump's tweet, she wrote: "To all the over 208,000 Americans who lost loved ones to this virus — I stand by you, with you, holding your hand. Unfortunately, it did dominate our lives, didn't it? It dominated Nick's family's lives and my family's lives. I guess we 'let it' — like it was our choice?? Unfortunately, not everyone is lucky enough to spend two days in the hospital. I cried next to my husband for 95 days watching what COVID did to the person I love. It IS something to be afraid of. After you see the person you love the most die from this disease you would never say what this tweet says. There is no empathy for all the lives lost. He is bragging instead. It is sad. It is hurtful. It is disgraceful."
Article continues below advertisement
In a series of Instagram stories, Kloots explained that she is "not a very political person," but that Trump's tweet was "hard to ignore." She added: "I'm sitting here in my house and I'm honestly frozen. I can't really even move. I couldn't believe what I read."
Article continues below advertisement
"I just have to say to all the over 208,000 families that lost a loved one to this disease, you know how terrifying it can be. Not everyone's lucky enough to walk out of the hospital after two days. We saw what this disease can do so guess what? We are afraid. We are. I still am. I think about if I got as sick as Nick, little Elvis doesn't have his mom anymore, so I'm afraid."
"Let it 'dominate' your life? No one's 'letting it'. Nick didn't 'let it,'" she continued. "It wasn't a choice, and it dominated his life, it dominated my life, it dominated our families' lives for 95 days, and because he didn't make it, it will forever affect my life."
Article continues below advertisement
"It's beyond hurtful - have some empathy!' she said. 'Why are you bragging? Have empathy to the Americans that you are our leader. Have some empathy to the people that are suffering and grieving. It's just not fair to act like this disease is nothing and you got right over it. I'm so happy that you did, you know, thank God you did, but guess what? There are a lot of people that didn't."
"Now instead of bragging about how wonderful you did, why don't you say: 'Wow, now that I've had this disease, I can understand a little bit better about how it could have affected our country and these people.'"
Article continues below advertisement
Kloots concluded: "I'm not sorry because it's too sad, it's too real, and it's real for the people who went through it, it's real for the families, it's real for the wives. It'll be real for Elvis one day when he actually understands what happened to his dad. It's real, so I'm not sorry. So please, just say something kind. Say something that might make the people that you lead feel like you got us, you're wrapping your arms around us."
In a video posted later, Kloots went on to state that she would be voting for President Joe Biden.