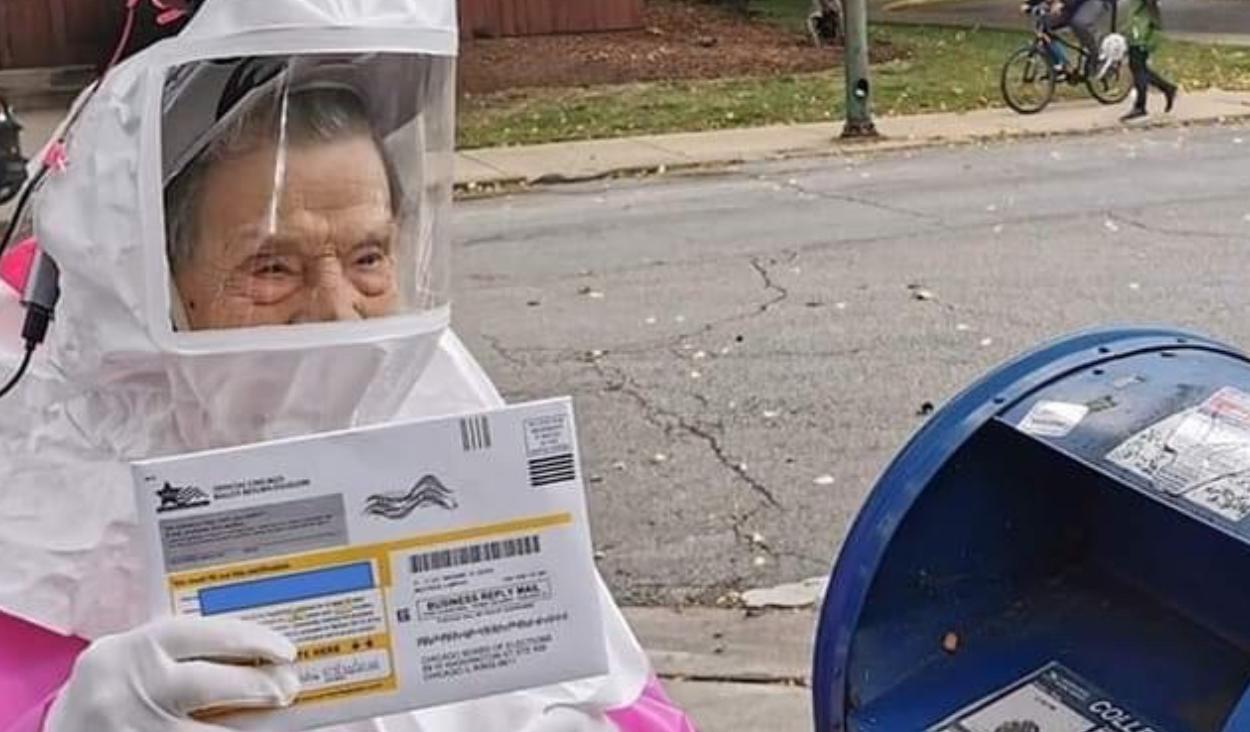 102-year-old woman who has never missed a vote casts mail-in ballot in full PPE
By Mark Pygas

Oct. 6 2020, Updated 9:24 a.m. ET
A 102-year-old woman who first voted for Franklin Delano Roosevelt in 1940 and hasn't missed a vote since has cast her ballot in the 2020 election while wearing full protective gear.
Article continues below advertisement
Beatrice Lumpkin has been advised to stay at home throughout the pandemic as she is extremely vulnerable to coronavirus. However, having not missed a vote in 80 years, Lumpkin decided to post her own mail-in ballot while wearing full protective gear.
The Chicago Teachers Union, of which Lumpkin used to be a member, shared photos of the 102-year-old casting her vote in a hazmat-type pandemic protection hood designed by her grandson.
Article continues below advertisement
Lumpkin told WBBM that it was important for her to vote to honor those who secured women's rights. "When I was born, women couldn't vote," Lumpkin told the publication. "And second, because it's the most important election of my lifetime. The very future of democracy is on the line."
Article continues below advertisement
Despite claims by President Trump that mail-in ballots are not secure, Lumpkin has faith in the system. "As soon as they get my ballot I'm going to get an email that'll let me know they have the ballot," she said.
Asked what she would tell President Trump about voting by mail, she added: "Well, if I had the chance, there would be a whole lot I could say to President Trump."
Lumpkin was escorted to the mailbox by members of the Chicago Teachers Union, who shared the moment on social media.
"Bea is truly universally beloved in our union, where she remains an active and dedicated retiree who shows up at as many picket lines and union events as she can, and remains very active in our work, plus writes occasionally for our monthly member publication, Chicago Union Teacher, most recently on the desperate need to address climate change," a spokesperson for the union said.