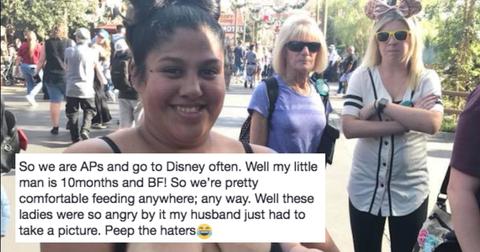 Woman shamed for breastfeeding at Disneyland--and the internet is on her side
By Mark Pygas

Updated
Mother Brittni Medina shared a photo to Facebook group Breastfeeding Mama Talk of her trip to Disneyland, and unintentionally sparked quite a debate.
Article continues below advertisement
Insider reports that Medina's post blew up, either because it's pretty hilarious or because people still stigmatize breastfeeding in public. Maybe both.: In the picture, Medina is feeding her ten-month-old while two women dressed for the occasion stand behind her shoulder looking like the most sour-faced women to ever enter an amusement park.
Article continues below advertisement
Medina's caption reads:
"So we are APs and go to Disney often. Well my little man is 10months and BF! So we're pretty comfortable feeding anywhere; any way. Well these ladies were so angry by it my husband just had to take a picture. Peep the haters."
"Characters of the day. Just had to get a picture!"
Apparently, Medina got enough negative comments that she felt obligated to update and say she wasn't hunting out people to make uncomfortable with her bare breasts, she was waiting in a line with her kid and he got hungry:
Article continues below advertisement
"UPDATE: Because people want to act all bent out of shape no I was not walking around feeding him in this moment ( I have tho before and would do it again) I was standing in a very long line to get our picture taken my son got hungry and I wasn't going to wait in another line again. So I took off my first top and nursed."
"These women were making snarky comments so I moved from my spot to catch a picture with these characters. Not for attention for me but attention to the fact NO WOMEN SHOULD BE SHAMED FOR FEEDING THEIR BABY UNCOVERED."
Article continues below advertisement
In the end, Medina was validated. Most people online are applauding her bold breastfeeding:
Article continues below advertisement
"Making breastfeeding in the lines of Disneyland comfortable," one mother wrote alongside an image of them breastfeeding at Disneyland.
Article continues below advertisement
One user concluded: "Don't let anyone shamed you girl that baby's got to eat you go girl feed that baby."
Article continues below advertisement
Another added: "You do what you need to in order to give what's best for your child, mama bear."
Article continues below advertisement
"She's feeding her child," one user wrote. "Everyone else at Disney ate that day. Her breasts weren't intended to gawk at, they were intended to nourish a child. This *needs* to be a normal!"
Heck yeah! Disneyland is too expensive to miss a moment of joy hiding in a toilet with your hungry baby. And if you don't like it, look somewhere else. All of Disneyland is literally created to be fun to look at.