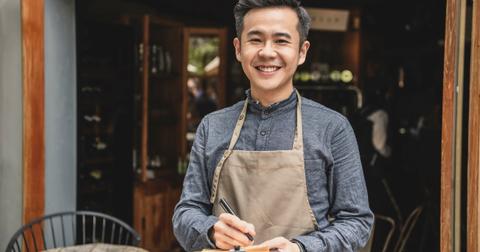 Waiters roast customers with mean comments On receipt but forget to delete them
By Mustafa Gatollari

Updated
For some reason, there's always a lot of drama involving wait staff and notes on receipts.
I don't know why receipts are now a forum for ideological warfare. I mean you've got customers who leave notes for gay waiters, saying that their meal was ruined.
But sometimes less politically motivated comments are left on receipts.
Like the one this Steak N' Shake customer was given by the food staff for apparently calling in an order blazed out of their mind.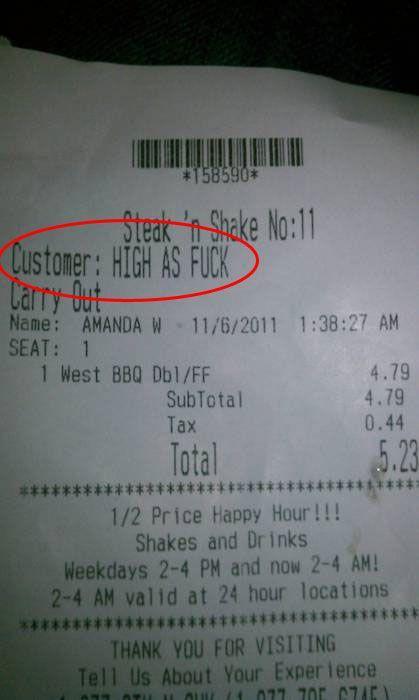 Now I get it, working as a waiter isn't exactly the most fun job in the world, so you need to come up with funny ways to keep you and your fellow employees entertained.
And unfortunately, that usually comes at the expense of the customers, which is exactly what happened to three, plaid-wearing patrons at a Peter Chang restaurant in Arlington, Virginia.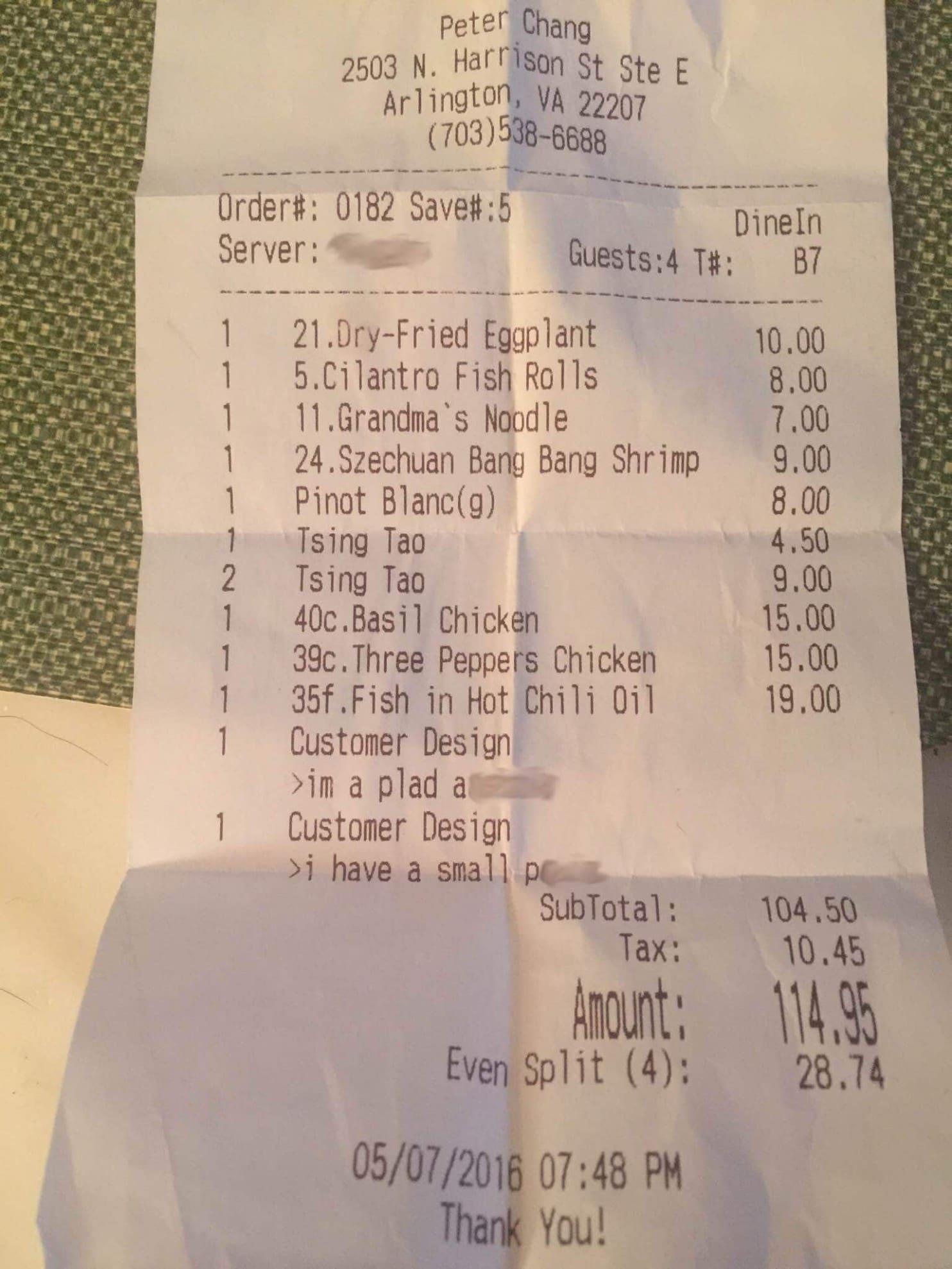 Now if you'll look closely at the receipt you'll see that there are some unsavory comments. "I'm a plaid a**hole" and "I have a small p***s" were put on there by the wait-staff to obviously mock the customers, who, according to The Washington Post, didn't really do much to invoke the ire of the restaurant's employees.
Turns out it was a simple conversation about bowls, of all things.
See, Peter Chang is billed as an "authentic" Sichuan dining experience. It was restaurant was opened by a former Chinese embassy chef of the same name who is now a successful restaurateur.
The party of four each ordered rice, and whenever there are three are more guests, Chang's policy is to serve the rice in a single, family style bowl (probably to avoid clutter on the table and reduce the amount of dishes to clean). To one of the patrons, who was formerly a Beijing resident, this seemed kind of strange as in their experience in China, the rice was all brought out in individual bowls.
The waiter than asked if they wanted their rice put in individual bowls, but everyone at the table insisted no that it's fine - that it was only brought up because that was the diner's experience in China. One of the diners told The Washington Post that there was a palpably awkward moment that got even more awkward once the check came.
The group's table asked that the check be split four ways, to which the waiter responded, "That's totally how they do it in China." One of the diners who spoke with The Washington Post, Matt, said that he didn't understand what the passive aggressive comment meant until his friend, the Beijing Resident, informed him.
"In China, one person pays for it. That's not at all the way things are done in China, so she's being sarcastic."
That's right, they allegedly got sass from the waitstaff, which was all but confirmed once the receipt came with the mean comments.
The location's manager, Qian Cheng, reportedly brushed off the plaid-wearing customer's concerns at first, chalking the receipt comments as being a joke between staff members that should've been deleted before being presented to the table.
Cheng gave them a $20 gift card for the incident. Then cut back the server's hours, not allowing them to work on weekends, which is precious tip time.
Well, also, real tips too, not just the pearls of wisdom like that one above.
After The Washington Post reached out for comment, however, Peter Chang restaurant issued this following response.
I sincerely apologize to the guests who were offended on 05/07/2016 when they dined at my Arlington restaurant. I am deeply disturbed by the incident. I am sorry, my respected guests. I also apologize to all my friends who have had trust in Peter Chang. We made a mistake and let you down.
We made a mistake and we must correct it. The following is what we are doing to correct and improve:
1. My company has fired Qian Cheng, the manager on duty on 05/07, and the waiter and waitress on duty. Manager Lydia Zhang will also be fired after the investigation is completed.
2. My company is contacting a professional management company and will have it as our consultant in improving the management of all the restaurants in my company. My goal is to enforce discipline, supervision of all employees and to better the training of services [sic] so as to build a managing team that is professional and effective, so that the quality of services will be guaranteed.
3. My company will make greater effort in improving the food quality monitoring system so my insistence on offering fresh and healthy food with Chinese characteristics will not only be upheld but improved and perfected.
4. We accept guests' complaints and/or criticism wholeheartedly. Please call Gen Lee, who is one of the founders of my company, by dialing (434) 227-0006 if you are unsatisfied with any aspect of my restaurants. He will contact you quickly.
Dear guests and friends, I found dignity in being a chef due to your support and encouragement. I need more of your help in supervising my employees, so my restaurants will be nicer places for you to enjoy fine food in the future, and I will have a stage to continue to present my culinary skills.
-Peter Cheng
And who would've thunk that all of this drama was started by a few measly bowls?
Well, don't count on receipt drama ending any time soon - it's a long and storied tradition. Like this restaurant that wrote "Ching Chong" on an Asian customer's receipt.
Or the whole scandal that occurred with this "great service, don't tip black people" receipt from a customer.
Then there were some staunchly anti-immigrant customers who have no problem eating at restaurants that employ illegal immigrants to keep the cost of their food down, but have a problem tipping them so they could get a decent wage.
Receipts man, they really get people going, don't they?