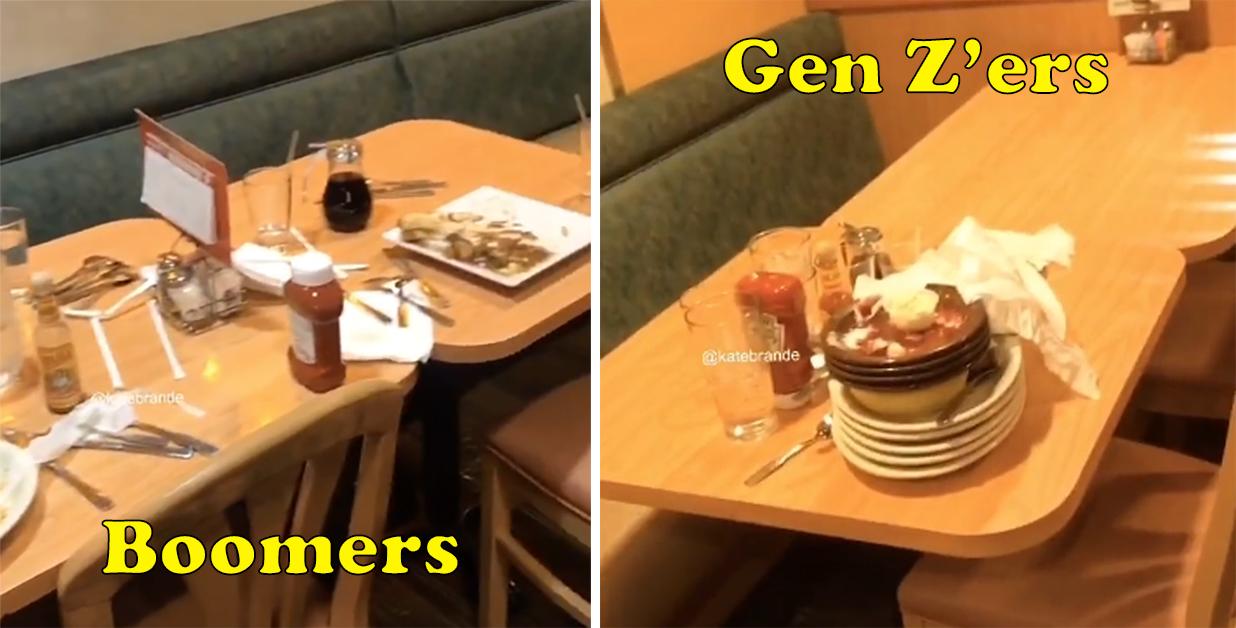 Server's viral TikTok shows how Boomers vs. Gen Z'ers leave tables at restaurants
By Mark Pygas

Mar. 27 2020, Updated 8:55 a.m. ET
There's a bit of a generational feud going on between Boomers, Millennials, and Gen Z'ers. The younger generations seem to think that all their problems are a result of decisions made by Boomers, while Boomers seem to think kids these days are lazy and entitled.
Article continues below advertisement
But Kaitlyn Brande, an 18-year-old server, is attempting to dispel that last stereotype. In a TikTok that has since gone viral, Brande shared the stark contrast between how a group of Boomers and Gen Z'ers left their tables.
Brande captioned the video: "'They get paid to do that' VS 'we know restaurant life is hard, here, let us help you out.'"
Article continues below advertisement
As you can see, there's a pretty stark difference.
Article continues below advertisement
Brande told Buzzfeed why she decided to post the video: "I posted it because I thought it was ironic since older people always expect respect. I'm not saying I expect people to ever stack their plates like that, because hey, I'm a person too. I want to go out and eat and not worry about the dishes or anything. All I'm saying is it was cool and helpful of the younger people, and I appreciated it."
Unsurprisingly, Brande's comparison has led to some mixed reactions. "It's not about age," one user wrote. "I'm boomer & always clean/stack the plates! I've always had 2 jobs, 1 in food service, still do! F/T restaurant Mgr while raising kids: 1 is now a chef & the other a brewer. Those w/background in food service always tip better & are more polite to servers."
Article continues below advertisement
While another added: "Neither is a good example of your generation vs our. There shouldn't have been plates on either table when these people left. What this is an example of, rather, is a waitress who doesn't pay attention to her customers and/or bus her tables."
Article continues below advertisement
What do you make of the video? Is this a generational issue or just a matter of manners?