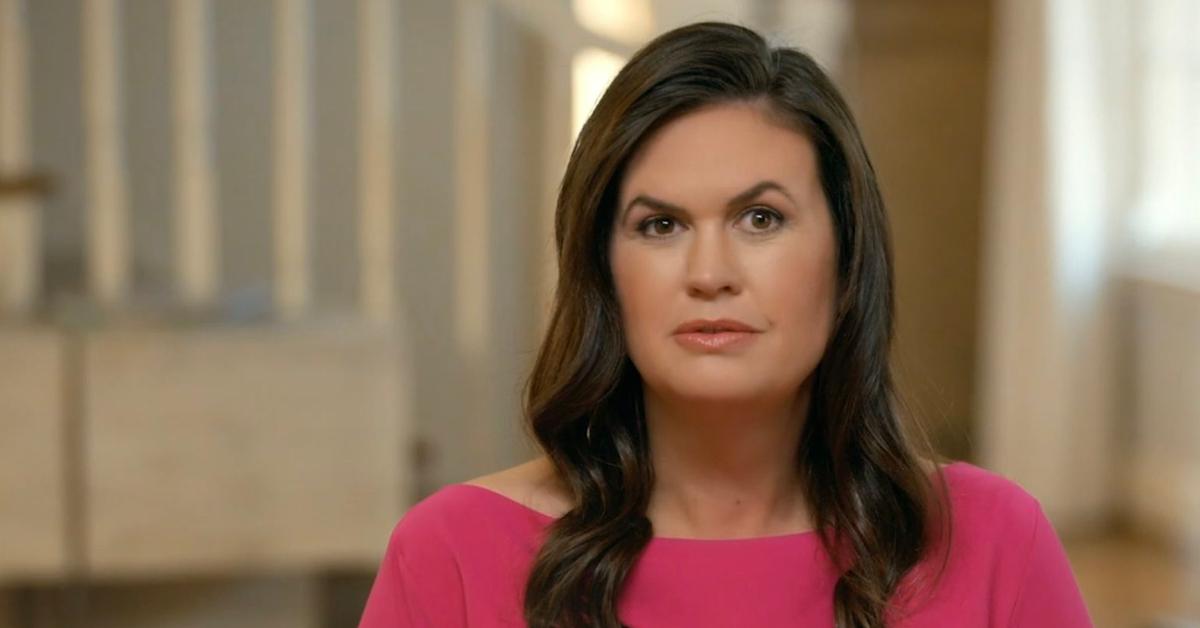 Sarah Huckabee Sanders is running for Governor of Arkansas and people are rolling their eyes
By Mustafa Gatollari

Jan. 25 2021, Updated 10:24 a.m. ET
A few infamous political figures have emerged out of Donald Trump's tenure in the White House. Former White House Press Secretary Sean Spicer, former White House Communications Director Anthony Scaramucci, former Counselor to the President Kellyanne Conway, and of course Trump's past Spokeswoman and replacement Press Secretary, Sarah Huckabee Sanders.
Article continues below advertisement
While there were tons of hired-then-fired individuals in Trump's administration, Sarah stuck around as Press Secretary for a relatively long amount of time: two years. Scaramucci only lasted eleven days as Communications Director and Spicer's Press Secretary tenure was over after around 7 weeks.
Sanders was called out for "blatantly lying" on several occasions, like when she claimed to not know Trump's "hush money" payoffs, even though the President had admitted to doling them out. Or when she said Trump created more jobs than Obama, but the 44th President's administration had actually created four times as many jobs as his White House successor.
Article continues below advertisement
Then who can forget the flip-flip on James Comey, when she lied and said that "countless…individuals who work at the FBI said they were very happy" Trump decided to fire the former FBI director and that it had nothing to do with the Russia probe. Then, while testifying to Robert Mueller, she reversed her position, stating that was a lie.
Article continues below advertisement
Sanders' ended her tenure as White House Press Secretary to "be...a mom to [her] kids" and thanked the former President for the job opportunity, but there were still many people who shared stories of her "incompetence" and open willingness to lie to the American people.
This is why so many folks are shocked that she would announce her bid to run for Governor of Arkansas.
Article continues below advertisement
The running joke soon became that anyone listening to her primary debates would have to take each and every single word she said with a grain of salt as she was consistently caught fibbing over and over again.
Article continues below advertisement
And it seems that she's using similar rhetoric to Donald Trump and other politicians who look to garner the support of those who fear "radical left" agendas. In her video bid for governor, she states, "The radical left's solution is to impose government control and censorship from the top down, but their socialism and cancel culture will not heal America — it will only further divide and destroy us," the 38-year-old says. "Everything we love about America is at stake and with the radical left in control of Washington your government is the last line of defense."
Article continues below advertisement
Even though her father Mike Huckabee is a popular figure, it seems that initial polling in Arkansas indicates that Sarah Sanders isn't exactly a beloved prospective candidate: only 37.5% of folks polled thought she would make a competent governor.
Article continues below advertisement
Others are worried that despite her notorious reputation of being untrustworthy, shirking facts on multiple occasions, and relying on antiquated "religion is under attack" arguments to curry support for her position, that because of her name recognition, as bad as it is, Sarah has a chance at winning the election.
Article continues below advertisement