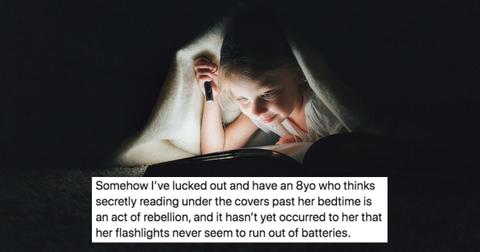 Parents share the sneaky hacks they use to get their kids to read
By Robin Zlotnick

Updated
Parents are sneaky. As kids, we always thought we were getting away with things, whether it was stealing pre-dinner snacks or staying up way past our bedtime to read books under our covers. But if there's one thing I learned as I got older, it's that parents know everything. And that even when you think you're defying their rules to stay up and participate in an enriching activity like reading, chances are they know exactly what you're doing and they're even probably secretly encouraging it, as one viral tweet reveals.
Article continues below advertisement
Somehow I've lucked out and have an 8yo who thinks secretly reading under the covers past her bedtime is an act of rebellion, and it hasn't yet occurred to her that her flashlights never seem to run out of batteries.

— Robert McNees (@mcnees) August 13, 2020
Robert McKnees shared that this 8-year-old daughter thinks she's being a rebel by using her flashlight to read under the covers after lights out. But he obviously knows what she's doing and has decided to encourage it by changing the flashlight's batteries so she never runs out. This tweet went totally viral and inspired other parents and former kids to share tactics they've used or ones that were used on them when they themselves were little.
Article continues below advertisement
Awww. Sometimes it's more fun to think that you're breaking the rules, but if it gets to the point where you love reading that much, a nice clip on lamp on your bedframe is an awesome gift. It's also great to feel like your clandestine habit doesn't have to be a secret anymore.
Article continues below advertisement
If you give kids an out when going to bed, they'll take it, even if it means they have to read. Eventually, they'll love reading and their parents will pat themselves on the back for a job well done.
Article continues below advertisement
If you just ask your kid to try something like reading, even if they don't want to at first, there's a good chance they'll be swept up in the story and want to continue on their own. It's all about making that introduction. And the Harry Potter books are a great introduction to the imaginative world of reading.
Article continues below advertisement
If you make reading a habit early on in a kid's life, eventually they'll learn to read on their own and take the reins. Then you can go back to reading the books you want to read instead of the same Dr. Seuss book every single night.
Article continues below advertisement
Ah, yes. Dads love reverse psychology. They tell you not to read the grownup books, but then they make them perfectly accessible because they actually do want you to read them. Works like a charm.
Article continues below advertisement
When your parents ground you, they want to take away something that you like to do. When it's reading, it's kind of a win-win for them if you do it sneakily.
Article continues below advertisement
I love this. It would be hilarious if they walked past their kid sitting up in bed, quietly reading with the lights on and looked in and said, "Wow, it's really quiet in here. Must be sleeping very soundly."
Article continues below advertisement
I used to have one of these! They were nice, but a little too convenient, if you catch my drift. I much preferred to hold a clunky flashlight under the covers but feel like I was getting away with something.
Article continues below advertisement
This is a great way to make your kids do chores and learn to love reading. Parents, I hope you're taking notes!