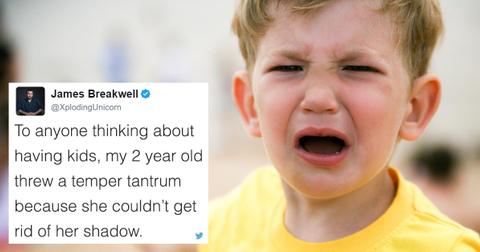 35 hilarious tweets that are way too relatable for parents
By Mark Pygas

Updated
Based on how I acted as a child, having kids seems like a terrible idea in about every regard. Sure, they're cute at times, but you also have to put up with the diapers and temper tantrums which eventually translate into a complete lack of any sleep.  
Article continues below advertisement
Then when they get older they take their sweet time flying the coup. Then comes college so don't even get us started on that. So the pros and cons are looking to really favor the cons.  If you need any proof that the whole parenting thing is a no-go, just look at these tweets from actual parents.   
Then they complain about being sleepy in the morning.
My biggest parenting conundrum: why it is so hard to put someone who is already sleepy to sleep

— christine teigen (@chrissyteigen) August 5, 2016
Article continues below advertisement
watching the kids play hide and seek in the park and mine just hid behind a chain link fence

at least we don't have to save for college

— Josh (@iwearaonesie) January 27, 2014
Apparently I pack an apple in my 5 year old's lunch so it can get out of the house for a few hours.

— Brian Hope (@Brianhopecomedy) April 15, 2013
Article continues below advertisement
My kid threatened to hold her breath until I gave her dessert. She's now passed out on the kitchen floor. I don't negotiate with terrorists.

— Tim (@Playing_Dad) January 10, 2013