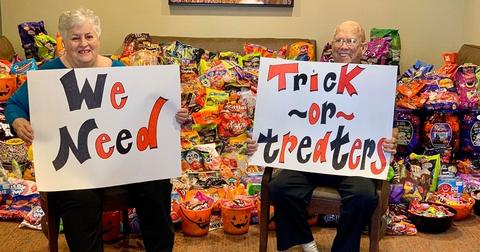 Nursing homes are looking for kids to go trick or treating for their residents
By Mark Pygas

Updated
Loneliness is an epidemic among the elderly. One in three seniors in the United States reports being lonely, which can increase the risks of heart attacks, strokes, depression, anxiety, and early death.  
And while many of us wouldn't think of Halloween as being a time to spread joy and cheer, it's a great opportunity according to Romper. 
They spoke to several nursing homes, and it turns out that many of them are looking for children to come trick or treating at their homes on Halloween. 
"One of my residents actually told me that it's been 30 years since she had a trick-or-treater visit her," Becky Hudson, lifestyle director at Heartis Senior Living - Clear Lake in Webster, Texas, told Romper. 
She continued: "We're opening up our doors to the local communities so anybody can come and trick-or-treat."
Kids who visit Heartis Senior Living can expect activities including "hay rides, carnival style games, a bounce house, hot dogs, as well as a face painter."
And, yes, they have a massive candy stash in case you were wondering.
Legacy Health Services in Parma, Ohio is also holding a massive event. Kali Whitlock, admissions director, told Romper: 
"It's kind of like a party... we had a pet pig [this year]! The residents like to see the kids in their costumes, and it's fun for the kids." 
St. Gabriel's Community in Bismark, North Dakota, are also looking for kids to come trick or treating. Lois Nodland, a resident, told KX Net: 
"I just love their laughs, smiles, appreciation and their parents. Just having all of the people around was an enjoyment." 
Parker Breault, the Lifestyle and Leisure Director at The Wentworth at Willow Creek Assisted Living and Memory Care Center in Sandy, Utah, told PIX11:
"With you coming through that door, you bring that youth with you and they become kids again."