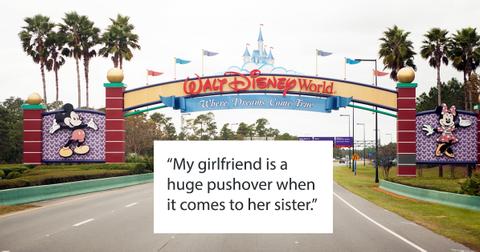 Guy asks if banning sister-in-law's newborn baby from adults-only Disney trip is unreasonable
By Mark Pygas

Updated
People of all ages can enjoy a vacation to Disney World. Whether it's a trip with the kids, or an adult's day out to see the new Star Wars land. Unfortunately, the wide appeal seems to be causing some issues between members of one family who had planned to have an adult trip to the amusement park only for a newborn baby to potentially ruin their day. 
Reddit user disneyboundgaston recently took to the platform to ask if they were being unreasonable when they banned their sister-in-law's newborn child from a trip they'd been planning for a while.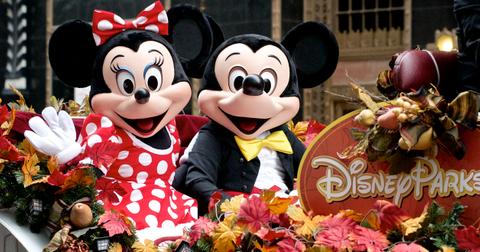 "For the past two years, a group of friends and I have been planning a weeklong trip to Orlando to visit Disneyworld and Universal Studios in three weeks. The first rule we made when we started to plan this trip is that it would be childfree. The two people in our group that have children agreed that their children were young enough not to be traumatized from not going to Disney at 3 years old."
"For personal reasons, one of my buddies had to drop out of the trip last minute. Since everything has been paid for, he said that if I could find someone to take his place he wouldn't expect to be reimbursed in any way, except for sweets from Honeydukes and mouse ears."
"I managed to find someone, but before I could say anything to the group my girlfriend (hopefully soon to be fiancée, I plan to [propose] on the trip) told me her sister wanted to take the empty spot. I asked how, because her sister just had a baby and at the time of the trip she will be 6 or 7 weeks. She said that her sister would just bring her daughter and we would make it work."
"My girlfriend is a huge pushover when it comes to her sister and has never said no to her before."
"I called her sister and tried to politely tell her that everyone going on this trip is either in their late 20's or early to mid-'30s. She wouldn't listen and started rambling about her daughter getting pictures with Mickey and Elsa (she also named her daughter Elsa btw) and how much fun she'll have."
"I interrupted her and said that the trip was adults only and her newborn was not allowed. I then pointed out that a lot of the places we'll be going to after the parks are adults only and no one would want to stay behind with her and the baby. Plus I don't think an unvaccinated newborn should be taken to Disney."
"I was called a d**k and how dare I tell her how to parent her child and it was creepy that a bunch of adults wanted to go to Disney without children. The last thing I told her before I hung up was that the empty spot had already been taken, by someone, so sadly she cannot come, but we'll take plenty of pics in our coordinated disney bound outfits and wizard robes to show her later. I think she cussed me out, before I ended the call."
"My girlfriend thinks I was mean to her sister and said I should apologize for not giving her a chance to come on the trip."
The Redditor went on to ask users of the platform if he was being unreasonable. What do you think? A lot of Redditors seemed to think that the sister-in-law sounded entitled.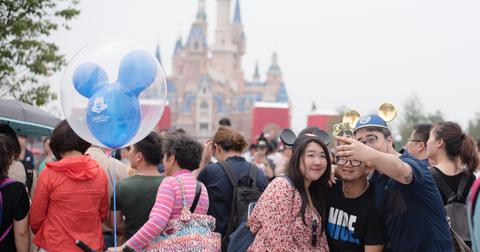 "It sounds like this woman isn't used to not getting her way. Also someone who wants to bring a weeks old baby to Disney is a total moron."
"Its your trip that you all planed far before she was even included. She doesn't get to come in last minute and make it about her and her kid."
"This trip was planned for literally years in a specific way, and that way absolutely did not include children.
It honestly sounds like sister is kind of a shitty person in general, and not someone you'd want to be stuck on a long vacation with.
The fact that she feels "owed" this vacation is absurd."
Some users did seem to think that while their fellow Redditor was in the right, he could have gone about it in a nicer manner,
"You may have been a little snarkier than needed in the conversation," one user wrote. "But sounds like she'd change the entire trip dynamic with or without the baby. Have a good trip."
Disneyboundgaston did go on to say that he plans to apologize for the snarkiness. 
Another commenter believed that it would be rude towards the other friends to suddenly change the plan and being a baby along. 
"Allowing the sister to bring her baby would be super rude to your friends who've made plans to leave their kids at home."
Other users just wouldn't want to go on vacation with a newborn.
"I wouldn't want to go on vacation with a newborn. I'd also be concerned about bringing such a small baby without their vaccines on an airplane and to an amusement park."
Another doesn't know how the mom has time to take her newborn to Disney World. 
"I had trouble finding time to wash my hair when my baby was 6 weeks old, let alone traveling to Disney. Not to mention the heat and crowds for that poor baby?"
What do you make of the situation?