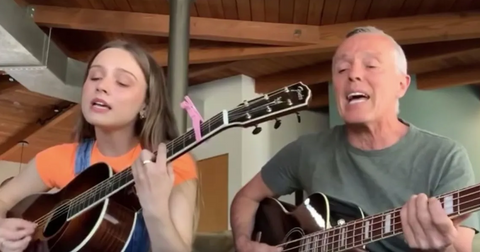 Tears for Fears singer performs 'Mad World' with his daughter, and it's hauntingly gorgeous
By Annie Reneau

Updated
If there's one thing we can all agree on, it's that we're living in a very, very mad world right now. Listening to the lyrics of the song "Mad World," it has perhaps never felt more fitting.
All around me are familiar faces
Worn out places, worn out faces
You mean my family members? The only people I've seen for weeks? Yep.
Bright and early for their daily races
Going nowhere, going nowhere
Umm, yeah. Going nowhere indeed. And it just gets more apropos:
Their tears are filling up their glasses
No expression, no expression
Hide my head, I want to drown my sorrow
No tomorrow, no tomorrow
Oof. Le sigh.
Tears for Fears front man Curt Smith and his daughter, Diva, performed the the song on YouTube, and it's gorgeous. Frankly, Diva is the one who steals the show, as it takes an immediately impressive turn when she pipes in with her perfect harmony.
Oddly enough, the version they sing is actually a cover of a cover of an original Tears for Fears song. The original Tears for Fears version from 1982 had a quicker tempo and techno beat. It wasn't until the song was covered by Gary Jules and Michael Andrews for the 2001 movie Donnie Darko that the song became the haunting ballad we're most familiar with.