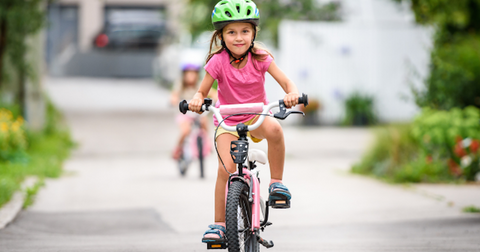 Internet helps woman track down man who gave her a bike at a refugee camp 24 years ago.
By May Wilkerson

Updated
The internet can be a beautiful place when people channel their energy and skills towards a positive aim. Twitter, while often a place teeming with memes and roast jokes, has also proven itself to be a helpful space for finding long lost friends and solving mysteries.
One of the most wholesome examples of this went down on Tuesday when 29-year-old Mevan Babbakar asked the internet to help her find a man who worked at the refugee camp she lived in as a child.
Hi internet, this is a longshot BUT I was a refugee for 5 yrs in the 90s and this man, who worked at a refugee camp near Zwolle in the Netherlands, out of the kindness of his own heart bought me a bike. My five year old heart exploded with joy. I just want to know his name. Help? pic.twitter.com/XzUgHzllYb

— Mevan | میڤان (@MeAndVan) August 12, 2019
Babbakar kicked off the thread by sharing that she was a refugee for five years in the 90s, and has one old photo of a man who bought her a bike and etched himself in her memory.
From there, kind and curious strangers retweeted the request and eventually she was able to track him down and shared the process with everyone who helped.
Within 2 hours, and 500 RTs later, doing a piece for local news @ds_Zwolle! Thank you all so much! The world feels so big sometimes but today it feels small and full of love. Thank you! pic.twitter.com/iEOFPTfGKg

— Mevan | میڤان (@MeAndVan) August 12, 2019
WE FOUND HIM!! A thread 👇👇

After 3000 RTs, 3 news articles, 1 video and thousands of wonderful messages from around the world, @Arjen78 made contact with the family!

Guys, I knew the internet was great but this is something else. https://t.co/H4qmL1uVqQ

— Mevan | میڤان (@MeAndVan) August 13, 2019
She also shared an adorable throwback photo from right before she received the bike.
For those wondering here what five year old Mevan looked like. This was my fifth birthday in the refugee camp in Zwolle. She doesn't even know that an incredible bike is coming her way aaaany day now! pic.twitter.com/caZ6NGFh55

— Mevan | میڤان (@MeAndVan) August 12, 2019
Babbakar shared that scores of other refugees messaged her to share how this man's kindness also touched their lives.
Not only did I find him, but I've also had other refugees reach out to me and tell me that him and his wife helped them too! Their kindness has touched so many lives. One woman said "they weren't friends to me, they were family"https://t.co/xMFJiiwktp

— Mevan | میڤان (@MeAndVan) August 13, 2019
She was also able to get in touch with a woman who worked at the camp who first taught her to use a computer.
AND someone else who worked at the camp got in touch, Sandra, she was incredible too, she helped me use a computer for the first time! I now work in tech!

More so than anything I remember these small kindnesses growing up, they helped shape me.https://t.co/RPdpNV2cMf

— Mevan | میڤان (@MeAndVan) August 13, 2019
The excitement and suspense over reconnecting with him was palpable.
Later today, 24 years later, I get to meet him in person! 😍

Thank you to everyone who made that possible, to every single person who RT'd and to those who sent messages. Special thanks to @Janske1 @Arjen78 @ds_Zwolle.

I will update this thread with how it goes! WISH ME LUCK!

— Mevan | میڤان (@MeAndVan) August 13, 2019
When she finally arrived at his home Babbakar took a photo with him, and shared that his name is Egbert.
Egbert has been working with refugees since the 90s, has a family of his own and likes gardening in his spare time.
This is Egbert. He's been helping refugees since the 90s. He was so happy to see me. He was proud that I'd become a strong and brave woman. He said that was his wish for me when I was small. He grows orchids. He has a beautiful family. He said it felt like I'd never left. pic.twitter.com/WlDWm2seVh

— Mevan | میڤان (@MeAndVan) August 13, 2019
Egbert was happy to see her, and surprised at how much the gift of a bike impacted her.
He thought the bike was too small a gesture to make such a big fuss about but he's really glad that it was the key to bringing us together again.

He says he doesn't smile in photos so we took a serious one together instead. pic.twitter.com/8UoaqLf1nI

— Mevan | میڤان (@MeAndVan) August 13, 2019
In closing, Babbakar thanked everyone for their help one final time, and pointed out that anecdotes like this prove the internet can be a tool for good.
He thought the bike was too small a gesture to make such a big fuss about but he's really glad that it was the key to bringing us together again.

He says he doesn't smile in photos so we took a serious one together instead. pic.twitter.com/8UoaqLf1nI

— Mevan | میڤان (@MeAndVan) August 13, 2019