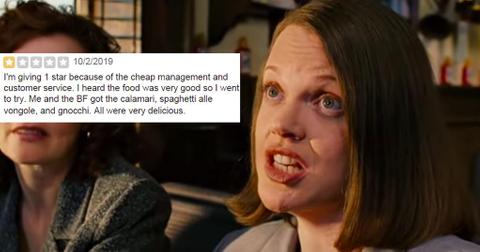 Instagram influencer gives bad Yelp review to restaurant that won't accept likes as payment
By Mark Pygas

Updated
There's no denying that influencers with a large social media following can be valuable to a business. With 115 million followers, Kim Kardashian reportedly made as much as $720,000 for a sponsored post from Olay.
Olay is a huge company, and wouldn't spend that amount of money if it didn't make a good return.
But usually, those deals are made in advance. Kim Kardashian doesn't walk into a restaurant, eat their food, and then demand to pay in 'exposure'.
That's exactly what one Yelp reviewer did, according to a screenshot shared on the Reddit community r/trashy. User richpacker shared a screenshot from the review website, which rates a restaurant as one star after they refused to let someone eat for free in return for an Instagram post.
The review starts:
"I'm giving 1 star because of cheap management and customer service. I heard the food was very good so I went to try. Me and the [boyfriend] for the calamari, spaghetti alle vongole, and gnocchi. All were very delicious."

Yes, the food was "delicious," and by the sounds of it, the service only got better. The review continues:
"I was actually so impressed that when the manager came to ask us how everything tasted I told her it was some of the best Italian food i've had. I told her i'm going to post about it on Instagram where I have over 11,000 followers and a lot of them are in the area. She seemed very happy about it."
I'd be happy if someone wanted to share my restaurant too, but hold onto your socks, it only gets worse from here on out.
"I was wrong," the reviewer states. "I thought she would be greatful for the free advertising but when the check came there was literally no discount at all. I thought at least one of the entrees would be taken off but they didn't even take off the calamari or even the drinks!"
The review concludes: "I won't go back here because of this. Which is a shame because the food was very good. The manager needs to understand how to treat customers."
We were unable to find the review on Yelp, so it's possible that it may have been taken down since it was posted earlier this month, as it does seem very unreasonable.
But Reddit users were quick to share similar examples they'd had while working in restaurants and retail.
One user explained: "I worked at a brewery for a while, and I had a woman come in and use a Groupon. She loved the beer, and ordered a few cans to go- it was a Wednesday at like 3 PM, so she was the only person there."
"I rang her up and handed her the bill, and she stared at me for a second before asking me to look at her phone, where she had pulled up her Yelp profile. Something like 1,200 reviews, she was "certified" (whatever the fuck that means) and she pointed to her bill after showing me her phone and coughed in that condescending way that people do when they think they're above the 'staff'."
"I asked if she didn't want her beers- I had stood there and written the names on the cans as she listed them. She told me, and I quote: 'Well, I just thought, you know, I can make or break your brewery with my review.'"
Other users said they'd be quick to eat at a place with a review like this one:
"To be honest, if I were looking for a place to eat and saw this 1 star review I would head to that restaurant immediately. In all honesty, the CB gave it a glowing review, the only negatives she listed were about her personality and entitlement."
While another user concluded: "If I came across this review I would be inspired to go to the restaurant."