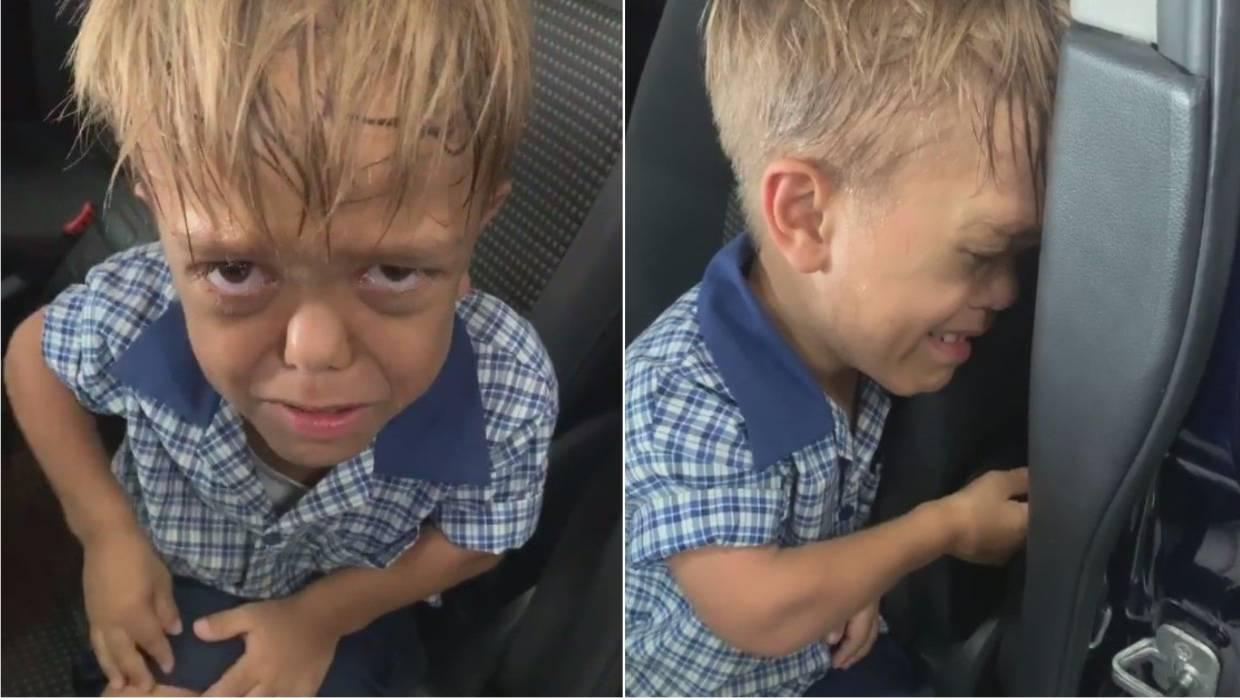 Mom shares video of son saying he wants to die to show the effects of bullying
By Mark Pygas

Feb. 20 2020, Updated 4:10 p.m. ET
A mom from Brisbane, Australia, is asking schools to teach kids disability awareness after a bullying incident left her nine-year-old son crying and saying that he wants to die. Yarraka Bayles shared an emotional video of her son crying hysterically after school on Facebook.
Article continues below advertisement
Quaden, 9, was born with Achondroplasia, a form of Dwarfism. Bayles explained in the video that he is constantly bullied for his disability.
"I've just picked up my son from school, witnessed a bullying episode, rang the principal, and I want people [to] know, parents, educators teachers, this is the effects that bullying has, this is what bullying does," Bayles states in the video.
Article continues below advertisement
Bayles told SBS that she arrived at school to find female students "patting him on the head like a puppy" and making comments about his height.
"She was patting him on the head like a little puppy. My daughter and I looked at each other and we made signals to him to ask if you are right, and he was like 'no' and he was looking at me horrified, like 'don't make a scene mum,'" she continued.
"You could tell he was very uncomfortable but he was so good at trying to shrug things off, he doesn't want people to know how much it's affecting him, he's so strong and confident but it's times like these when you just see him crumble. It was just heartbreaking to watch, it made me feel helpless."
She explained that she shared the video online because the bullying is constant and Quaden has attempted suicide several times.
Article continues below advertisement
The mother, who also runs Stand Tall 4 Dwarfism, explained that Quaden had first attempted suicide at the age of six when his grandfather passed away and that he has also tried several times since.
"It's the constant bullying, the name-calling, obviously pointing out his difference so now we have a ... severely suicidal child who's sick of the bullying that is [happening] every single day that he attends school or is in public."
"I feel like I'm failing as a parent. I feel like the education system's failing."
While Bayles doesn't blame the school or the students for the incident, she thinks that more needs to be done to teach children about disabilities.
Article continues below advertisement
"That would solve so many of the problems ... it would protect the other kids with disabilities and help make them feel safe."
Quaden has since been pulled out of school, and his mother is considering teaching him at home.
The video quickly went viral, with over 6 million views and 140,000 shares. Commenters flooded the video with positive messages, including one that read: "I've met this little legend tell him to be strong. Thank you."
Another commenter added: "My heart breaks for you hun you are beautiful just the way you are."
Article continues below advertisement
Despite some criticism for sharing the emotional moment, Bayles said she plans on keeping the video up to show the effect bullying had on her child.
"I have copped a lot of backlash for it, I thought twice about deleting it... but I wanted people to see the effect bullying is having on my child. If I don't stand up and speak out for him, who will," she said.
She added that she would be sharing a video every time a situation like this occurred, hoping that something will change.
Article continues below advertisement
Since the video was posted, Quaden has also met fellow Indigenous Australian Latrell Mitchell, a National Rugby League All-Star.
New Zealand-Samoan actress Teuila Blakely shared a photo of the moment on Instagram, writing:
"Well done to the Indigenous NRL All Stars Team for standing up to bullying and giving such a special honour to a very special young Indigenous son Quaden Bayles - Y'all know how I feel about bullying of any kind, people big or small, who are unkind can straight get in the rubbish where they belong. Life is for the loving."
Article continues below advertisement
Quaden also received a video from the entire Indigenous All-Stars team. "Hey Quaden, how you going cuz?" Mitchell began.
Article continues below advertisement
"Just want to wish you all the best brother. We know you're going through a hard time right now but the boys are here, we've got your back. We're here to support you, bud.
"We just want to make sure you're doing alright and make sure that your mum's on your side, we're on your side.
"Just make sure you're thinking the right things, bud, because we want you around - we want you to lead us out on the weekend.
"It's going to mean more to us than it will to you, bud. Just make sure you're looking after us and hopefully, we'll get to see you in the next couple of days."
The video ended with the entire team giving Quaden a round of applause.