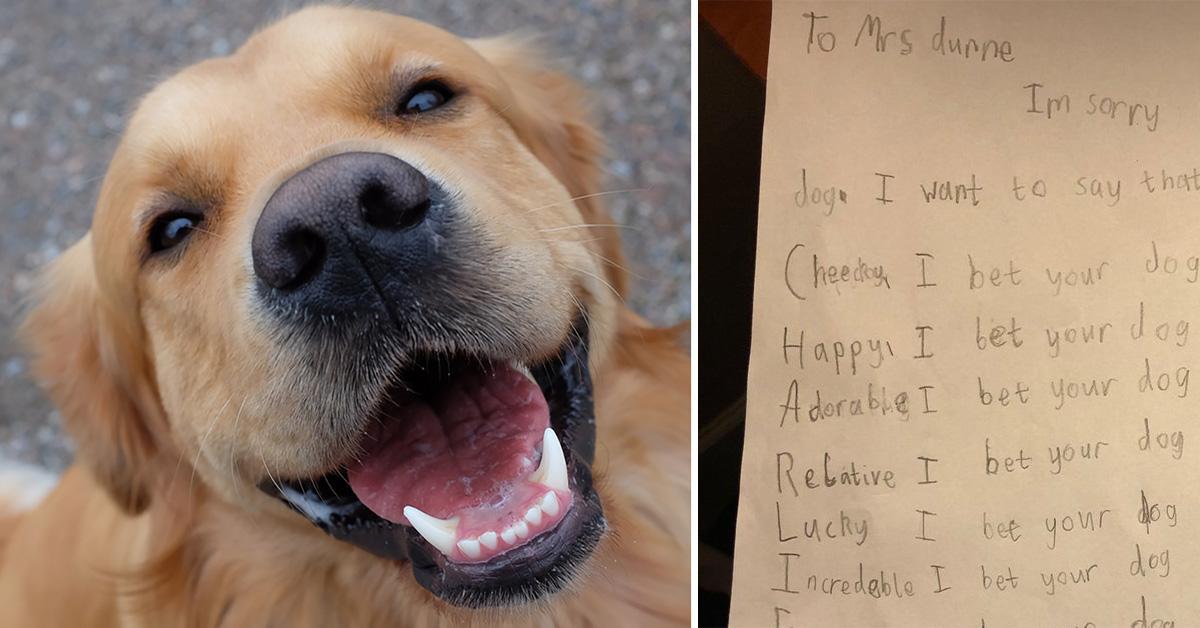 Boy writes adorable poem for teacher whose dog died and we are in tears
By Jake Heppner
We all know the pain of having to put an animal down. Lucie Dunne from Glasgow in the United Kingdom and her family recently had to go through this ordeal with their beloved dog Charlie. Lucie's mom was devastated, and wasn't exactly excited about returning to work the next day to face her students and tell them what happened with Charlie.
But it appears that the news about her golden retriever had already made it to them. When she returned, a boy named Callum presented her with a card that's got the Internet in tears.
Lucie shared the card on Twitter, along with the caption: "Mum's been so upset about the dog being put to sleep and stressing about having to go back into school today, and she got this from a wee boy in her class."
"To
Mrs Dunne
Sorry if you don't like it or it makes you emotional."
"To Mrs Dunne
I'm sorry about your dog. I want to say that your dog was
Cheeky, I bet your dog was really cheeky.
Happy, I bet your dog was always happy.
Adorable, I bet your dog was super adorable.
Relative, I bet your dog was really related to you.
Lucky, I bet your dog was really lucky to have.
Incredible, I bet your dog was super incredible.
Energetic, I bet your dog was always full of energy.
But most of all I know your dog was special and your dog is in a better place and is looking over you."
"The sweets are supposed to be here but you know here.
Charlie was a great dog.
From Callum."
Our hearts. They hurt. By the looks of it, all of the above applied to Charlie.
Unsurprisingly, Twitter couldn't stop crying over the adorable letter either.
People are big fans of Callum.
Some lines didn't make much sense, but we'll let it slide.
Callum is going far in life.