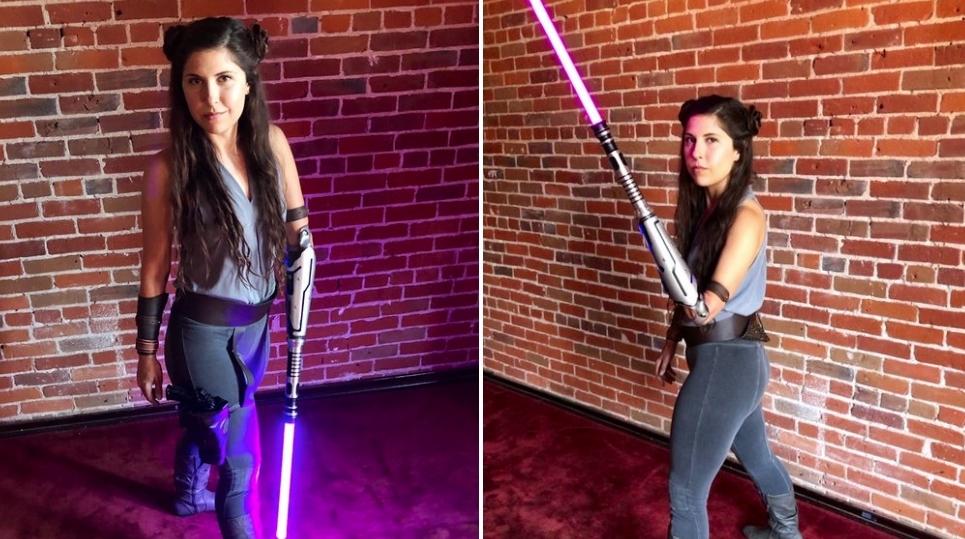 Cosplayer's lightsaber attachment for her amputated arm attracts praise from Mark Hamill
By Mark Pygas

Sep. 6 2019, Updated 9:03 a.m. ET
One of the great things about cosplay is just how inclusive it can be for people with disabilities. And the attention that cosplayer Angel Giuffria and her best friend Trace Wilson are getting for their San Diego Comic-Con 2019 costumes are a perfect example of this.
Article continues below advertisement
For the event, which took place last week, the two friends created some incredible lightsaber attachments for their amputated arms. Giuffria completed the look with a Jedi costume, while Wilson was a Sith.
Article continues below advertisement
In a caption alongside her post on Instagram, Giuffria wrote:
"I'm absolutely loving wearing my lightsaber attachment for my bionic arm – while trying to safely keep my fingers crossed for an audition for @starwars one day."
"Wouldn't it be a cool addition to have actual amputees in the film series since there's so many amputee characters! I've been told I look like #CarrieFisher a few times in my life and told I look like #LukeSkywalker a few times too (arms not face I'm assuming?). Here's me embracing both sides!"
Article continues below advertisement
In a further post, Wilson explained that he met Giuffria almost four years ago "and quickly realized that we are basically the same person except I'm tall and a dude."
And yes, their lightsabers look just as cool out of costume.
Article continues below advertisement
The pair went on to attract plenty of attention for their costumes online, including from Mark Hamill. "Look no further than inspirational [Giuffria] for the next generation of [Star Wars] heroes," the actor wrote on Twitter. Clearly you believe in yourself. Now all you've got to do is work hard, never give up & ANYTHING'S possible!"
Article continues below advertisement
"I can't wait until they make it so the light blade actually retracts," another user added. "They really should put you in their next movie."
Article continues below advertisement
While another commenter added: "This is kick ass! Your audition (and part in the film) needs to happen ASAP."