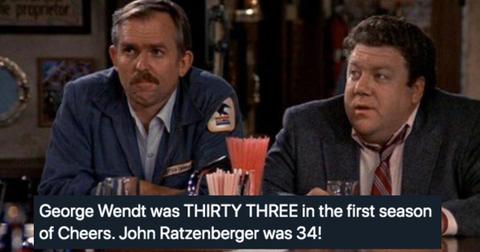 25 photos that prove people in the past aged way faster than today
By Robin Zlotnick

Updated
Twitter user Brandon McCarthy posed a somewhat muddled question to the world the other day, and it triggered one of the most hilarious threads. "This is nonsense," he wrote, "but did people in the past look older when they were younger?" In other words, did people used to age way more rapidly than they do today?
Hundreds of people responded with pictures proving that yes, this is indeed the case. People who were 30 years old in the 1920s and '30s look like people in their 40s and 50s today. It's bizarre! The following pictures are proof of this phenomenon.
1. Parents
Was it the clothes they were wearing? The hairstyles? The fact that the photo is in black and white? But the pleated pants up to his chest is one thing. The receding hairline at 23 years old is another thing.
2. Dwayne "The Rock" Johnson
There are a few pictures of The Rock as a young man floating around the internet, and if I'm being totally honest, they're not enough. We need more. We deserve them. That pencil thin, Gomez Addams mustache really is something else.
3. John Ratzenberger and George Wendt
George Wendt I can kind of believe because even though he's in an old man suit, he has sort of a baby face. But John Ratzenberger? Thirty-four years old?! What happened to him?
4. Wilford Brimley
It's a little bit unfair to compare Tom Cruise to anyone, but the difference between him at 56 and Wilford Brimley at 50 is staggering. Many in the comments are citing the proliferation of cigarettes and alcohol in those days as the reason people look so much other then. That's definitely got to be part of it.
5. Sir Bobby Charlton
Several people included soccer players from the '60s and '70s on this list because they all looked so old for some reason. I cannot believe Sir Bobby Charlton was only 32 in this picture. He looks like Paul Simon's cranky older brother.
6. Ray Nitschke
Oh my goodness. Were football helmets in those days more likely to rub all the hair off your head? Some people these days do go bald in their 20s. It happens! But very few embrace the side wisps. That's reserved for old men. Here's a word to the wise: If you start going bald as a young person, just shave it. Shave it all.
7. Jim Croce
OK, Jim Croce definitely looks older than 30, but if you take off his mustache or twirl the ends of it with wax, he kind of looks like every Williamsburg hipster in 2019. Sorry. It's just the truth.
8. Buddy Holly, Ritchie Valens, and J. P. Richardson Jr.
This is truly insane. If I was presented with these pictures and asked to guess their ages, I would have, with no hesitation, said Buddy Holly was 16, Ritchie Valens was 33, and The Big Bopper was...also 33. Buddy Holly looks like a child.
9. Grandparents
This phenomenon is particularly dramatic in people's family photos for some reason. The craziest part is that the baby is only two months old! OK, I made that up.
My parents are about the same age as the grandparents in these photos, and they look way, way younger than this.
10. Otis Nixon
Even in the '90s, people looked far older than they do today. Otis Nixon may have been 36, but he looks like he had the most stressful baseball career in the history of the sport.
11. John Tenta
Wrestlers do a lot of crazy things to their bodies, but 26. Twenty-six. There is probably no point in history at which he would look 26 years old. He probably came out of the womb with that beard.
12. Pat Morita
This cannot be. To be fair, Ralph Macchio has always had an extreme baby face. But still, these two do not at all seem like they're the same age. Maybe it's because Ralph Macchio waxes on more than Pat Morita, if you know what I mean (I don't even know what I mean).
13. Rollie Fingers
Again, I think if you saw Rollie Fingers in a Bushwick record store today, you wouldn't blink an eye. It might just be the uniform and the weird look on his face. Baseball cards are so funny. Did he pose for this? Did they take several pictures and then go, "This one! Such a natural position to be standing in! And a brilliant facial expression!"
14. Greg Oden
I am often dumfounded by athletes' appearances when I am watching college sports. I think today, some of them are "super seniors" who red-shirted for a year and so they're really like 20 or 21, but the fact that Greg Oden is 19 in this photo is bonkers.
15. Florence Owens Thompson
So yes, this was the Great Depression. But having seen this famous Dorothea Lange photo many times, it is absolutely shocking that Florence is 32 years old in it. I'm almost 31. Do I look like that?
16. Carroll O'Connor
Sure, this is a crazy fact, but even crazier to me is that Jean Stapleton, who played Edith Bunker, is one year older than Carroll O'Connor. She looks so much younger than him!!
17. George "Duke" Harris
Wow. Oh wow. Out definition of what athletes look like really has changed over the years, hasn't it? I guess back in the day, it was totally cool for hockey players to be 31 years old and yet somehow look exactly like Grandpa Munster.
18. Ron Karkovice
I thought this guy kind of looked like every guy on my college's baseball team, but then I realized he has a very blond mustache, which ages him so much. Why were mustaches such a thing? I'm glad we've graduated to beards. Beards are better than mustaches.
19. 'The Mary Tyler Moore Show' Cast
I love this show so much, and this is a good reminder to watch it again. I have to say, Ted Knight definitely looks older than 46, but Cloris Leachman is a total babe! She's 11 years older than Mary Tyler Moore, and you would never know it.
20. Gump Worsley
I mean, come on. With a name like Gump Worsley, you have to look like that at age 41. Can you imagine some suave, John Stamos looking guy with the name Gump? No, you cannot.
21. Elizabeth Taylor
Elizabeth Taylor is a legend, and I've seen this photo a bunch of times, but I never realized that she was 17 in it. Women were forced to become adults so much earlier back then.
22. Grzegorz Lato
It really seems like having a career in soccer in the '60s or '70s did something to a man because they all looked extremely old. I really have a hard time believing this guy is 24. In this picture, he looks just like Prince Philip today, and he's 98.
23. Hank Williams
I have to be honest; I didn't know much about Hank Williams. I had no idea that he died when he was only 29 years old... probably because he looks at least 37 in this photo.
24. Joe McCarthy
Joe McCarthy was in his early 40s when he became a coach for the Yankees. But he looks 60. He's probably pointing to a mirror saying, "That's not what I look like. I'm 44. No seriously, that can't be me."
25. Otis Redding
I knew that Otis Redding died at a young age, but I didn't realize he was 26. He looks way older than that, and I'm telling you, it's the mustache. Fellas. Mustaches age you 15 years minimum. Take that into consideration before you decide to grow one.